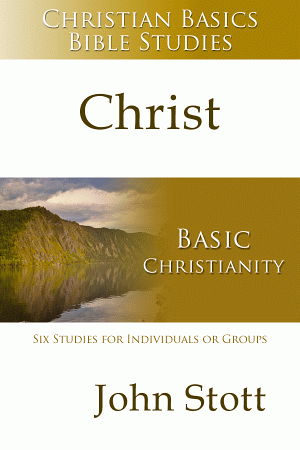 Christian Basics Bible Study - Christ
Basic Christianity
Highlights
Resources for growth in a key area of discipleship
Focuses on the application of biblical lessons in everyday life
Based on Basic Christianity by John Stott
Includes six sessions
Can be used by individuals or groups
Includes the NIV text
Features background notes and guidelines for group leaders
Designed to stand alone (it is not necessary to read the book on which this study is based)
Product Details
God himself is seeking you.
Through his Son, Jesus Christ, God offers you his love.
How can you know God's love? How can you trust Jesus? Six studies based on John Stott's Basic Christianity explore the life and character of this man who altered history forever. Discover him here for the first time; or meet him again in a new and deeper way.
The Christian Basic Bible Studies are designed for use by individuals or groups, and are based on bestselling InterVarsity Press books. The NIV text is included for each study, along with background notes and guidelines for group leaders. (You won't need to refer to the book from which the study is drawn in order to get the most out of the study.)
Focusing on the application of Scripture to real life and covering topics basic to Christian discipleship, Christian Basics Bible Studies are an excellent resource for new believers, high-school and college groups, and Sunday school classes. They will be appreciated as well by all who want to delve deeper into the issues raised by the influential books on which the study guides are based.
About the Author
John R. W. Stott (1921-2011) has been known worldwide as a preacher, evangelist and communicator of Scripture. For many years he served as rector of All Souls Church in London, where he carried out an effective urban pastoral ministry. A leader among evangelicals in Britain, the United States and around the world, Stott was a principal framer of the landmark Lausanne Covenant (1974). His many books, including Why I Am a Christian and The Cross of Christ, have sold millions of copies around the world and in dozens of languages.