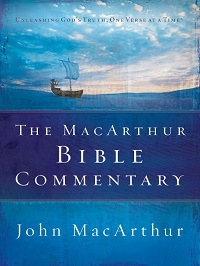 The MacArthur Bible Commentary
Unleashing God's Truth, One Verse at a Time
Product Details
The MacArthur Bible Commentary is a remarkable achievement. In a single massive volume, John MacArthur delivers solid, concentrated teaching on every passage of your Bible text, phrase by phrase. It also includes hundreds of word studies.
Each major division has a general introduction, plus this volume also includes a short introduction for each book of the Bible. These introductions cover author, date, time, and setting. They also discuss how God's character and Christ are seen in the book, and key doctrines, people, and Scripture passages that represent the core theme of each book.
To show how the Bible ties together, MacArthur also provides harmonies of the historical books of 1 and 2 Samuel, 1 and 2 Kings, 1 and 2 Chronicles, and the Gospels. On top of that, there are articles on theology, the ministry of Jesus, the ministry of the apostles, and the progress of revelation.
Very few scholars can get right to the point like MacArthur. For example, here's how MacArthur answers the question: What should be my response to God's Word?
Believe it (John 6:68, 69)
Honor it (Job 23:12)
Love it (Psalm 119:97)
Obey it (1 John 2:5)
Guard it (1 Timothy 6:20)
Fight for it (Jude 3)
Preach it (2 Timothy 4:2)
Study it (Ezra 7:10)
Using this volume in your WORDsearch library will help you quickly cross-reference Bibles and other commentaries for more in-depth treatment of the verse or topic you are studying.
Check out a sample by clicking on the yellow Sample button underneath the book cover image.
About the Author
John MacArthur, Jr. pastors Grace Community Church in Sun Valley, California, and serves as President of the Master's College and Seminary. A well-known Bible expositor and conference speaker, he has written over 150 books. He is also the Bible teacher on "Grace to You", an international radio broadcast. He and his wife Patricia live in Southern California and have 4 grown children and eleven grandchildren.