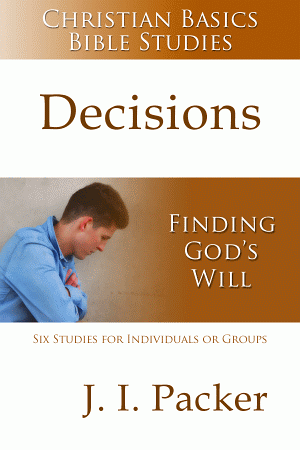 Christian Basics Bible Study - Decisions
Finding God's Will
Highlights
Resources for growth in a key area of discipleship
Focuses on the application of biblical lessons in everyday life
Based on Finding God's Willby J. I. Packer
Includes six sessions
Can be used by individuals or groups
Includes the NIV text
Features background notes and guidelines for group leaders
Designed to stand alone (it is not necessary to read the book on which this study is based)
Product Details
Are you facing a big decision?
From job changes to marriage to buying a house, the big decisions you make in life often cause confusion and stress. What does God want you to do? How can you avoid making a decision you'll later regret?
Six studies based on J. I. Packer's Finding God's Will provide you the biblical grounding you need to discover God's will and make decisions that honor him. The principles you learn here will guide you through a lifetime of decisionmaking.
The Christian Basic Bible Studies are designed for use by individuals or groups, and are based on bestselling InterVarsity Press books. The NIV text is included for each study, along with background notes and guidelines for group leaders. (You won't need to refer to the book from which the study is drawn in order to get the most out of the study.)
Focusing on the application of Scripture to real life and covering topics basic to Christian discipleship, Christian Basics Bible Studies are an excellent resource for new believers, high-school and college groups, and Sunday school classes. They will be appreciated as well by all who want to delve deeper into the issues raised by the influential books on which the study guides are based.
About the Author
J. I. Packer is Board of Governors' Professor of Theology at Regent College in Vancouver, British Columbia. He also serves as contributing editor to Christianity Today. Packer's writings include books such as Knowing God (IVP Books), A Quest for Godliness (Crossway), Growing in Christ (Crossway) and Rediscovering Holiness (Servant), and numerous articles published in journals such as Churchman, SouthWestern Journal, Christianity Today, Reformation & Revival Journal and Touchstone.