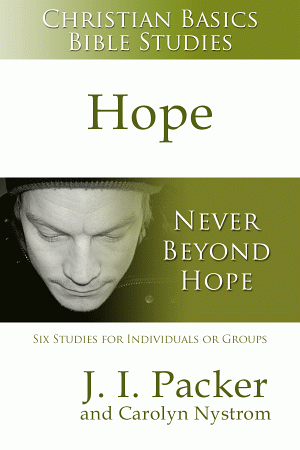 Christian Basics Bible Study - Hope
Never Beyond Hope
Highlights
Shows how God can use you--even with imperfections and failures
Offers hope through the stories of men and women from Scripture
Resources for growth in a key area of discipleship
Focuses on the application of biblical lessons in everyday life
Based on Never Beyond Hope by J. I. Packer and Carolyn Nystrom
Includes six sessions
Can be used by individuals or groups
Includes the NIV text
Features background notes and guidelines for group leaders
Designed to stand alone (it is not necessary to read the book on which this study is based)
Product Details
Ever feel like a hopeless sinner?
Look at the lives of Samson, Peter and Martha.
God used their imperfections, and he can certainly use yours--no matter how bad you think they are.
The Bible offers hope and encouragement through the testimonies of those that have gone before you. In this Christian Basics Bible Study, based on relevant stories from the Bible and on Never Beyond Hope by J. I. Packer and Carolyn Nystrom, you'll discover that just as these men and women of Scripture failed, they were also redeemed by God.
And God wants to do the same for you.
The Christian Basic Bible Studies are designed for use by individuals or groups, and are based on bestselling InterVarsity Press books. The NIV text is included for each study, along with background notes and guidelines for group leaders. (You won't need to refer to the book from which the study is drawn in order to get the most out of the study.)
Focusing on the application of Scripture to real life and covering topics basic to Christian discipleship, Christian Basics Bible Studies are an excellent resource for new believers, high-school and college groups, and Sunday school classes. They will be appreciated as well by all who want to delve deeper into the issues raised by the influential books on which the study guides are based.
About the Authors
J. I. Packer is Board of Governors' Professor of Theology at Regent College in Vancouver, British Columbia. He also serves as contributing editor to Christianity Today. Packer's writings include books such as Knowing God (IVP Books), A Quest for Godliness (Crossway), Growing in Christ (Crossway) and Rediscovering Holiness (Servant), and numerous articles published in journals such as Churchman, SouthWestern Journal, Christianity Today, Reformation & Revival Journal and Touchstone.
Carolyn Nystrom is a freelance writer based in the western Chicago suburbs. She has written more than seventy-five books and Bible study guides and served as general editor for the Christian Classics series.