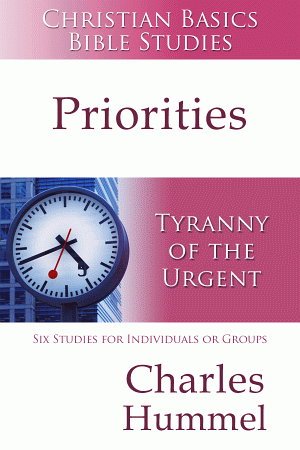 Christian Basics Bible Study - Priorities
Tyranny of the Urgent
Highlights
Resources for growth in a key area of discipleship
Focuses on the application of biblical lessons in everyday life
Based on Tyranny of the Urgent by Charles Hummel
Includes six sessions
Can be used by individuals or groups
Includes the NIV text
Features background notes and guidelines for group leaders
Designed to stand alone (it is not necessary to read the book on which this study is based)
Product Details
Have you ever wished for a thirty-hour day?
Does your list of unfinished tasks--unanswered letters, unvisited friends, unread books--grow larger and larger each week?
If so, you desperately need relief.
Six studies drawn from Charles Hummel's Tyranny of the Urgent will help you put your life back in order by focusing on God's "to do" list instead of your own.
The Christian Basic Bible Studies are designed for use by individuals or groups, and are based on bestselling InterVarsity Press books. The NIV text is included for each study, along with background notes and guidelines for group leaders. (You won't need to refer to the book from which the study is drawn in order to get the most out of the study.)
Focusing on the application of Scripture to real life and covering topics basic to Christian discipleship, Christian Basics Bible Studies are an excellent resource for new believers, high-school and college groups, and Sunday school classes. They will be appreciated as well by all who want to delve deeper into the issues raised by the influential books on which the study guides are based.
About the Author
Before his passing in August 2004, Charles Hummel was formerly director of faculty ministries for InterVarsity Christian Fellowship and president of Barrington College in Rhode Island. He was the author of fifteen books and Bible studies, including The Galileo Connection, Fire in the Fireplace, Genesis (in the LifeGuide Bible Study Series), and the bestselling booklet, Tyranny of the Urgent.