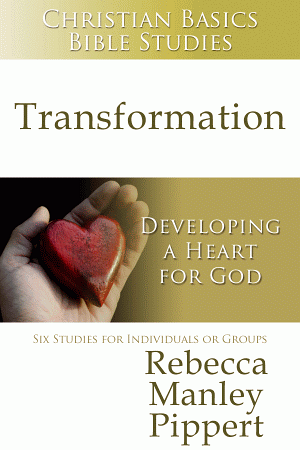 Christian Basics Bible Study - Transformation
Developing a Heart for God
Highlights
Investigates David's life, choices, mistakes and triumphs
Shows how David turned negative emotions in his life into godly character qualities
Resources for growth in a key area of discipleship
Focuses on the application of biblical lessons in everyday life
Based on A Heart for God by Rebecca Manley Pippert
Includes six sessions
Can be used by individuals or groups
Includes the NIV text
Features background notes and guidelines for group leaders
Designed to stand alone (it is not necessary to read the book on which this study is based)
Product Details
Would you like to move from despair to hope?
Would you like to transform your feelings of fear to faith?
Would you like to turn envy into compassion?
The Bible shows how David turned these negative emotions in his life into godly character qualities. In this Christian Basics Bible Study, based on the Bible's account of David and A Heart for God by Rebecca Manley Pippert, you'll investigate David's life, choices, mistakes and triumphs.
You'll discover how you can make the same transformation your own life.
The Christian Basic Bible Studies are designed for use by individuals or groups, and are based on bestselling InterVarsity Press books. The NIV text is included for each study, along with background notes and guidelines for group leaders. (You won't need to refer to the book from which the study is drawn in order to get the most out of the study.)
Focusing on the application of Scripture to real life and covering topics basic to Christian discipleship, Christian Basics Bible Studies are an excellent resource for new believers, high-school and college groups, and Sunday school classes. They will be appreciated as well by all who want to delve deeper into the issues raised by the influential books on which the study guides are based.
About the Author
Rebecca Manley Pippert is an internationally known speaker who regularly lectures on spiritual renewal, evangelism and character formation for church conferences, at schools and colleges and in pastoral training seminars. She has also written several popular books on evangelism and Christian living. Her bestselling book Out of the Saltshaker has sold more than a half-million copies worldwide.