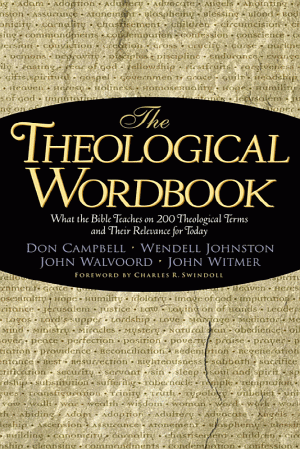 The Theological Wordbook
The 200 Most Important Theological Terms and Their Relevance for Today
Product Details
Stimulating theology is an oxymoron for most people. "Theology" sounds like something for the severely intellectual, full of complicated ideas that escape the typical Christian reader.
In reality, theology is meant to enhance our understanding of God. Most of the words that make up the Christian vocabulary are common words, drawn from the realities of life, and therefore are easily applicable to real life. Based on this premise four leading authors have come together to create this excellent volume.
The Theological Wordbook tackles tough words, such as propitiation, regeneration, righteousness, and predestination, but it does so in a natural, plain-spoken manner designed to be enlightening rather than evasive. Also literally dozens of words you are likely to use every day, such as forgiveness, mind, peace, rest, family, truth, and guilt, have profound biblical value. Using The Theological Wordbook can enable you to more fully appreciate what the Bible teaches on these crucial topics and how each of these terms is relevant for life today.
As this happens, your understanding of God will expand. And as the words you use, speak, and hear in the community of faith become more familiar, you will become more connected to your own spiritual heritage.
The Theological Wordbook is the link between understanding God's Word in your head and accepting it in your heart.
About the Author
John F. Walvoord (A.B., D.D., Wheaton College; A.M., Texas Christian University; Th.B., Th.M., Th.D., Dallas Theological Seminary) has long been a recognized authority on systematic theology and eschatology. Dr. Walvoord is chancellor of Dallas Theological Seminary. He retired from the presidency in 1986. He is a past president of the Evangelical Theological Society.
Dr. Walvoord has specialized in the field of biblical eschatology for more than thirty years. His academic background plus extensive travel in the Middle East makes him unusually capable of preparing theological and eschatological studies.