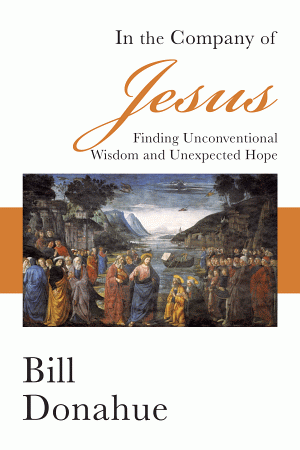 In the Company of Jesus
Finding Unconventional Wisdom and Unexpected Hope
Highlights
Designed as a companion to the Jesus 101 series. Not required reading but a great complement--topics relate to the study topics
Broken into 48 units--great Lenten reading
Appropriate reading for Christians or active seekers
A look at Jesus that focuses not on the facts of who he is (Christology) but on how he works in our lives
Picks up on new interest in Jesus after The Passion
Bill Donahue is an international speaker, a small groups expert and the leader of the small group ministry at Willow Creek association
Product Details
What images come to mind when you hear the name "Jesus"? Religious icon? Mystical guru? Maybe he's the figure in the stained glass window at church, or the painting hanging in the hallway of your grandmother's house.
Bill Donahue spent years asking these questions, and the Jesus he eventually met was not merely an ancient sage but the living, breathing Son of God. He found himself captivated by Jesus' teaching, embraced by his love and disarmed by his grace. And so in this book, the author brings to life the many facets of who Jesus is and what his work in the world is all about.
Written in forty brief segments with opportunities for personal reflection and dialogue with God, In the Company of Jesus makes ideal daily reading. This book is a companion to the Jesus 101 Series and elaborates on the ideas found in those studies.
This winsome approach to Jesus will expand your ideas about who he is and draw you into his very presence. Whether you are meeting Jesus for the first time or you've known him for many years, you'll find new insights from time spent in the company of Jesus.
About the Author
Bill Donahue (Ph.D., University of North Texas) is founder and lead strategist for The Communitas Network, which coaches and equips catalytic leaders to build transformational teams for the purpose of mobilizing missional communities. He also serves as an adjunct teacher at a number of seminaries, training both master's and doctoral students in church leadership and small group ministry.
He previously served as executive director of small group ministries for the Willow Creek Association (WCA), where he developed leadership strategies and training events for over 2500 volunteers. He has also worked as an associate pastor in Texas and Pennsylvania, and at Proctor & Gamble and PNC Financial Corporation.
He is the author of Leading Life-Changing Small Groups and coauthor of Building a Church of Small Groups, The 7 Deadly Sins of Small Group Ministry and Walking the Small Group Tightrope (all with Russ Robinson). With Greg Bowman he is the author of Coaching Life-Changing Leaders. He has also written In the Company of Jesus and the Jesus 101 small group study series (with Keri Wyatt Kent).
Endorsements
What would Jesus do? Who can tell? He is too wild to predict and too holy to presume. Nothing in this life, however, is worth more than the quest to ponder Jesus. Bill Donahue offers us one of the finest guides in print to accompany us on this journey. Bill doesn't pander to easy questions or answers; instead, he offers a rich landscape of perspective to consider who we are with Jesus and who he wants to be for us. I can't imagine a person walking through this process without being fundamentally trained for glory.
Knowing Jesus personally is the essence of salvation, yet little help has been provided as to how to get to know Christ. This book goes a long way to remedy that absence of direction.
Bill places little grains of spiritual reflection in your mind that turn over and over to form new pearls of insight into the marvelous character of Jesus. Highly readable and full of spiritual wisdom, this book will draw you deeper into a mysteriously familiar relationship with the Savior.
Bill Donahue--as wonderful, articulate and wise as he is--is not the most fascinating, intelligent, winsome, provocative, insightful, dynamic or commanding person in the history of the world. But Bill knows that person--and in these pages, he introduces us to that person. The result? Readers will want to be in the company of this extraordinary person too--whether they've known him for years, or are just beginning their spiritual exploration.