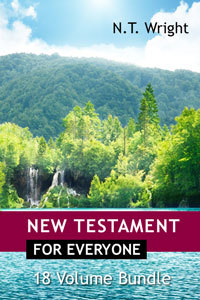 New Testament for Everyone
Highlights
Includes N.T. Wright's own translation of the New Testament
Written to be understood by scholars and layman alike
Ideal for Bible study, personal devotion, and teaching
Glossary of power words included
Product Details
If you preach, teach, or love new discoveries in God's Word, the New Testament for Everyone is going to be one of your favorites. Written by Dr. N.T. Wright, who is recognized as one of the world's leading Bible scholars, this commentary covers the entire New Testament.
Wright notes that when the disciple Peter first publicly told people about Jesus, it was very clear that the gospel is for everyone. He also describes the New Testament as letters and stories about Jesus that were circulated for everyone who wanted to read or hear. With that in mind, Wright wrote this accurate and inspiring commentary not just for scholars, but as a ministry tool that can be used by everyone.
Dr. Wright's New Testament for Everyone includes:
A Fresh Translation - Wright precedes each commentary with his own personal translation of each text. It's fascinating to read how Wright chose to bring each word and phrase into the English language. It's obvious he has carefully weighed his choice of words against many other translations, and he often explains why he chose one word over another.
Inspiring Commentary - Relevant to our world today, with important core truths that are easy to teach and pass on to others.
Teachable Applications - Wright does more than explain what the Bible says and means. He always applies it, and he makes it obvious what action God expects in response to the lessons.
Power Words - As a way to deliver depth to highly-educated scholars but also keep it understandable to everyone else, Wright built in a huge glossary of power words. He never avoids language issues, he just puts them where they aren't in the way. In Wordsearch, they each appear in bold with a little icon next to it. Click on the icon and you'll go to a deeper study of that word. Even these word studies are written in a way that are easy to grasp.
The style of the New Testament for Everyone is so refreshing and fun to read, you won't be able to stop yourself from reading on past the text you set out to study.
About the Author
N. T. Wright is the Chair in New Testament and Early Christianity at the University of St. Andrews in Scotland. He is the former Bishop of Durham in the Church of England and is a prolific author and noted New Testament scholar.
Products Included In This Bundle