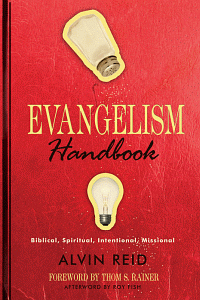 Evangelism Handbook
Biblical, Spiritual, Intentional, Missional
Highlights
One of BaptistMessenger.com's Editor's Picks for 2009
Product Details
In Matthew 5, Jesus calls believers the salt of the earth and light of the world. Indeed, we must reach out to tell others His story of sacrifice and grace so glory is given to God throughout our communities and the entire planet.
Evangelism Handbook is a thorough guide to the daily ministry of sharing Christ. Writer and professor Alvin Reid is particularly concerned about how the Western Church is practicing evangelism—its failure to reach the hardcore unchurched and its trend of losing young people faster than it can win them.
With all of that in mind, Reid organizes his research and experience in effective modern evangelism into four clear and actionable categories: Biblical (with chapters on Jesus, Paul, and evangelism in Acts), Spiritual (the work of the Spirit, the power of prayer and other disciplines), Intentional (leadership, creativity, worship), and Missional (church planting, reaching the unchurched).
About the Author
Alvin Reid is associate dean of Proclamation Studies, professor of Evangelism, and Bailey Smith Chair of Evangelism at Southeastern Baptist Theological Seminary in Wake Forest, North Carolina.
Endorsements
The mission field is filled with opportunities for the message of the gospel to be heard, received, and affirmed. But the American church is largely and sinfully silent. The publication of Evangelism Handbook could not be timelier...This book offers one of the best overviews of the discipline of evangelism that I've ever read.