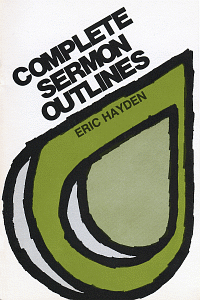 Complete Sermon Outlines
This title works with the following Wordsearch products
Desktop
Highlights
This book is a volume inside the Sermon Outline Series book when you download in Wordsearch
Product Details
The outlines in Complete Sermon Outlines have been carefully selected from the published sermons of those whose preaching has been blessed to the salvation of men. The outlines are obtained by reducing to their present form many of the best sermons of such eminent evangelists, here, Eric Hayden.
The sermons in this book are textual, topical, expository, doctrinal, evangelical—so that anyone going through a dry patch may find help anything during the year. Topics include Easter, Whitsun, Christmas, Harvest Thanksgiving, Wedding, and more.
Those who are not preachers or students for the ministry, especially the elderly and "shut-in," will be able to use these outlines for personal meditation, supplementing their daily Bible reading and the radio and television services on the Lord's Day.
About the Author
Eric Hayden, now pastoring a church in Donnington Wood, Shropshire, England, preached at London's Metropolitan Tabernacle, the church made famous by Charles Hadden Spurgeon, from 1956-1961. That makes Hayden part of a select circle which includes, in addition to Spurgeon, John Gill, A.T. Pierson, A.C. Dixon, and W. Graham Scroggie, all of whom served the Tabernancle, one of England's most famous Baptist churches. Hayden, a product of Spurgeon's College, has written other homiletical aids as wee as A Centennial History of Spurgeon's Tabernacle.