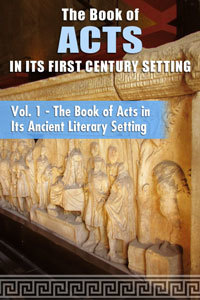 The Book of Acts in Its Ancient Literary Setting
Volume 1 of The Book of Acts in its First Century Setting
Product Details
The series The Book of Acts in its First Century Setting presents the results of interdisciplinary research between New Testament, Jewish, and classical scholarship. Working to place the Book of Acts within its first-century setting, well-known historians and biblical scholars from Australia, the United States, Canada, Russia, and the United Kingdom have collaborated here to provide a stimulating new study that elucidates the Acts of the Apostles in its literary, regional, cultural, ideological, and theological contexts.
Volume 1: The Book of Acts in Its Ancient Literary Setting includes fourteen chapters devoted to the literary framework that undergirds the Book of Acts. Topics include the text as historical monograph, ancient rhetoric and speeches, the Pauline corpus, biblical history, subsequent ecclesiastical histories, and modern literary method. All of these chapters arise out of a consultation by the project's scholars at Cambridge in March 1993.
About the Authors
Andrew D. Clarke is senior lecturer in New Testament at the University of Aberdeen, Scotland.
Bruce W. Winter is the former warden of Tyndale House, Cambridge, and a respected authority on the historical background to the New Testament.
Endorsements
The Books of Acts in Its Ancient Literary Setting offers a number of quite fresh approaches to Acts...A dozen different genres or types of document are explored here, resulting in a rich mix of options. Acts emerges from its isolation into a world of contemporary rhetoric and contextual plane...A most attractive entrée to a promising series
An important contribution to a new and better understanding of Luke's Acts in its true literary and historical context. This work is coming at just the right time, when a change in the older pseudocritical but (in reality) unhistorical assessment of Luke is becoming visible. It shows that Luke is a real Hellensitic historian writing a monograph about the history of a new messianic Jewish sect called 'Christians'. This group of highly qualified authors gives a convincing overview from quite different perspectives, helping us to do more justice to Luke and to better understand his fascinating early Christian author.