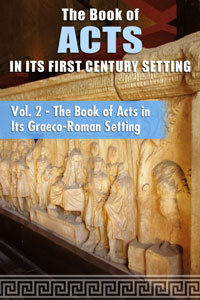 The Book of Acts in Its Graeco-Roman Setting
Volume 2 of Acts in Its First Century Setting
Product Details
The series The Book of Acts in its First Century Setting presents the results of interdisciplinary research between New Testament, Jewish, and classical scholarship. Working to place the Book of Acts within its first-century setting, well-known historians and biblical scholars from Australia, the United States, Canada, Russia, and the United Kingdom have collaborated here to provide a stimulating new study that elucidates the Acts of the Apostles in its literary, regional, cultural, ideological, and theological contexts.
The Book of Acts in Its Graeco-Roman Setting locates the Book of Acts within various regional and cultural settings in the eastern Mediterranean. These studies draw on recent archaeological fieldwork and epigraphic discoveries to describe the key cities and provinces within the Roman Empire. The relevant societal aspects of these regions, such as the Roman legal system, Roman religion, and the problem of transport and travel, all help contextualize the book of Acts.
About the Authors
Endorsements
The results of our rapidly expanded historical and archaeological knowledge have here been brought to bear on the Book of Acts to stunning effect. Outstanding as Jackson and Lake was in its day, this volume on the Graeco-Roman setting of Acts holds out the promise of equaling if not surpassing that great achievement.
This well-written volume offers a remarkable, up-to-date collection of relevant new data to assist in scenario formation for a considerate reading of the Book of Acts. The largely Australian and British team of authors must be congratulated for preparing this very useful data set. There are authoritative descriptions of travel, of food supply, of domestic and political religion, of urban elites, and of the Eastern Mediterranean provinces and their leadership. Such information about the realia of the Graeco-Roman world will enable the interpreter of Acts to bring these data to bear in the process of interpretation. . . Of great use to ancient historians, classicists, and biblical scholars, yet written and presented in such a way that it will be fascinating to intelligent nonprofessionals as well.