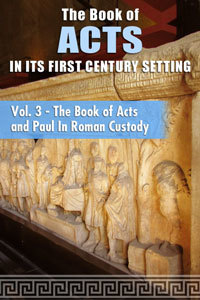 Acts and Paul in Roman Custody
Volume 3 of Acts in Its First Century Setting
Product Details
The series The Book of Acts in its First Century Setting presents the results of interdisciplinary research between New Testament, Jewish, and classical scholarship. Working to place the Book of Acts within its first-century setting, well-known historians and biblical scholars from Australia, the United States, Canada, Russia, and the United Kingdom have collaborated here to provide a stimulating new study that elucidates the Acts of the Apostles in its literary, regional, cultural, ideological, and theological contexts.
Volume 3: Acts and Paul in Roman Custody provides a unique opportunity not only to learn about the custodial system of the Graeco-Roman world, but to better view Paul's persona and Christian mission as well. Brian Rapske's outstanding study shows Luke himself to be an ardent helper of Paul the missionary prisoner.
About the Author
Brian M. Rapske is assistant professor of New Testament at Northwest Baptist Seminary in Langley, British Columbia.
Endorsements
A remarkably comprehensive study, illuminating an aspect of Paul's life that is seldom understood or appreciated.
Rapske's book is a fine addition to the series in which it appears. It is sure to make a mark not only on the study of Acts but also on our understanding of Paul and his position in the early church.
It is a must for a better understanding of Paul's missionary travels and the legal dangers and challenges the apostle faced.
The author has produced an invaluable resource for both Acts and Pauline scholars, having placed the prison narratives of Paul in both their cultural and literary settings. The footnotes alone demonstrate the wealth of socio-cultural knowledge that Rapske brings to his reading of the Acts account as well as his understanding of the Pauline missions via-á-vis his suffering in prison.
Rapske['s] . . . compilation of so much in a single volume continues the good service of this series in providing future commentators on Acts with a thorough and easily accessible compendium. Rapske provides a wealth of detail. . . Rapske's hugely industrious effort is perhaps an appropriate tribute to the real sufferings, easily forgotten, of the apostle about whose social interactions he very sensitively writes.
An exceptionally rich repository of data. . . A work of great industry and learning. It has measurably enriched my reading of the narrative of Paul's imprisonments.
We are now deeply indebted to Rapske for exposing a surprising blank page in our understanding of Paul's ministry: Paul in Roman custody. . . Carefully drawing on primary material, Rapske uncovers a wealth of historical information on Roman judicial processes and related custodial practices. . . We have important contributions to the study of Paul and of Acts in this book. Judicious reasonable explanations are provided for elements of the Acts narrative that have aroused historical suspicions. . . Rapske clearly has produced a magisterial study putting New Testament research, especially Acts, in his debt.