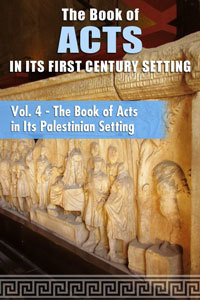 The Book of Acts in Its Palestinian Setting
Volume 4 in Its First Century Setting
Product Details
The series The Book of Acts in its First Century Setting presents the results of interdisciplinary research between New Testament, Jewish, and classical scholarship. Working to place the Book of Acts within its first-century setting, well-known historians and biblical scholars from Australia, the United States, Canada, Russia, and the United Kingdom have collaborated here to provide a stimulating new study that elucidates the Acts of the Apostles in its literary, regional, cultural, ideological, and theological contexts.
The Book of Acts in Its Palestinian Setting is devoted to a series of studies of those parts of the narrative of Acts that are specifically set in Palestine. The geographical, political, cultural, social, and religious aspects of first-century Jewish Palestine are all explored in order to throw light on Luke's account of the Palestinian origins of early Christianity . There are fresh assessments of the historical significance of key features, persons, and events in Luke's narrative.
About the Author
Richard Bauckham is professor emeritus of New Testament studies at the University of St. Andrews, Scotland, senior scholar at Ridley Hall, Cambridge, and a fellow of both the British Academy and the Royal Society of Edinburgh.
Endorsements
This fine collectivework interprets Acts in the setting of ancient Judaea, Samaria, and Galilee. Its chapters range from studies of archaeology, inscriptions, geography, and culture to reviews of historical questions concerning the Jerusalem church and its organization and worship, and the relation of Christians to the Roman administration and the Jewish community. Ancient historians and specialists in Jewish studies collaborate with New Testament scholars to offer a wealth of information and many fresh approaches and insights. Their contributions form a handbook of high quality and interest that will be valued for a long time.
Expect from this series an avoidance of oversimplification, engagement with current scholarship, independence of judgment, and superb knowledge of the world of ancient Christianity.