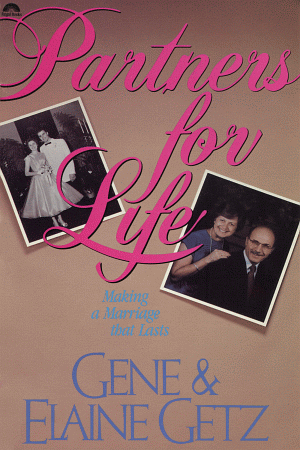 Partners for Life
Making a Marriage That Lasts
Product Details
What? Another marriage book?
No, Partners for Life is a lot more: it's about making a marriage that last. By now, you've discovered that "till death do us part" is more than a promise for the future—it takes work now to be together later. Do you want to help, but don't know where to begin? This book can help.
Gene and Elaine Getz, a Christian couple, have been married for over 30 years. They have learned what it takes to make a marriage work. In Partners for Life, they give you the practical tools you need to better understand your spouse, and the dynamics of your marriage. Every chapter includes examples, discussion questions, and extensive worksheets you can use to actively explore your relationship.
Ask yourself the questions. Work together with your spouse. The answers you find may be the help you need. You'll learn more about yourselves and what makes your marriage special—the keys to building a partnership that lasts.
About the Authors
Dr. Gene A. Getz received his diploma (1952), Moody Bible Institute; B.A. (1954), Rocky Mountain College; M.A. (1958), Wheaton College; Ph.D. (1968), New York University; and did his graduate study at Northern Illinois University. He became involved in church planting and renewal at a very practical level while teaching at Dallas Theological Seminary. After exploring the subject for several years with his students, he wrote Sharpening the Focus of the Church. Prodded on by several families in Dallas who became interested in starting a new church, Gene launched Fellowship Bible Church in November of 1972. Committed to biblical absolutes, the church was also built on the concept of "freedom in form." Growth was immediate. Since that time, 12 Fellowship churches have been started in the Dallas metroplex and numerous churches throughout the United States can trace their roots back to what has happened in Dallas.
Gene has personally pastored three of these churches. Presently, he serves as Pastor Emeritus at Fellowship Bible Church North, located in Plano, Texas, one of the fastest growing areas in the Dallas metroplex. Though Gene still teaches part time at Dallas Theological Seminary, his primary focus involves directing the Center for Church Renewal and his pastoral responsibility at Fellowship Bible Church North. The CCR is a rapidly growing organization designed to minister to pastors, missionaries and other church leaders.
Gene's ministry career has involved a variety of experiences including Christian education and music ministries, college and seminary teaching. He has also authored over 60 books and many of these book titles have been printed and distributed in over 30 different languages. Most of his books have grown out of his experience as a pastor. Some of his best selling titles are the series Measure and the One Another books. His Men of Character series are impacting the current men's movement. Recently, he has launched a 15-minute weekday program called "Renewal" which is aired on the Moody Radio Network. The format consists of brief messages, interviews, discussions.
Elaine Getz has served with Gene in full-time Christian ministry since 1956 as mother of three, professor's wife, and seminar leader.