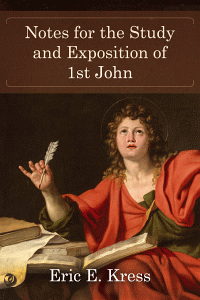 Notes for the Study and Exposition of 1st John
Product Details
Notes for the Study and Exposition of 1st John is not designed as a flowing commentary to be read from cover to cover. It should be used with an open Bible and in conjunction with other study aids.
It is not a collection of sermons, but it is meant to encourage expository teaching through the epistle. It is not fully an exegetical commentary, but it has important clues for expositors to accurately get at the meaning and appropriately apply 1st John. It is not a teacher's quarterly, but it will help one to teach through the epistle in a class or small group setting.
The notes are meant to give lexical, grammatical and theological insights into the text of 1st John. The outline is designed to expose the epistle's flow of thought in a form that can be easily communicated and understood, and it may be used in its entirety, modified or simply set aside at the users discretion. The appendix is included to facilitate individual or small group study.
Check out a sample by clicking on the yellow Sample button underneath the book cover image.
About the Author
Eric Kress is a graduate of The Master's Seminary in Sun Valley, California and is the pastor of Grace Community Bible Church in Tomball, Texas
Endorsements
I have found this treatment of 1 John very helpful in my own preparation. It is concise, well outlined, and detailed enough in the text to get at the right interpretation.