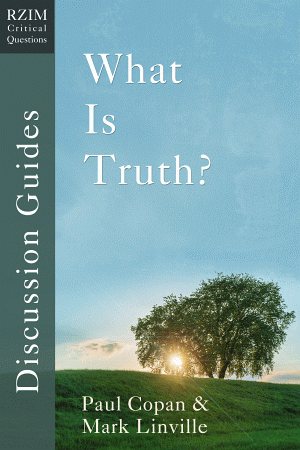 What Is Truth?
RZIM Critical Questions Discussion Guide
Highlights
Engaging discussion questions
Clear insights from experts in their fields
Helpful notes for leaders
Product Details
There are some questions you can't avoid, no matter what you believe. The question "What is truth?" becomes more distressing every day. What's so wrong about being wrong? Am I a bad person if I believe something is true? Where does truth come from? This Critical Questions Discussion Guide by Paul Copan and Mark Linville provides a forum for exploring these questions in groups or individually. Here are the engaging insights of world-class philosophers and theologians to help you.
The series editor is Ravi Zacharias, a renowned Christian scholar and author, and founder of Ravi Zacharias International Ministries.
About the Authors
Paul Copan is the Pledger Family Chair of Philosophy and Ethics at Palm Beach Atlantic University. He has written several books, including Creation Out of Nothing: A Biblical, Philosophical and Scientific Exploration, and he has edited several others, including The Rationality of Theism and Will the Real Jesus Please Stand Up?
Mark Linville is a professor of philosophy and a contributor to the Critical Questions series published by Ravi Zacharias International Ministries.