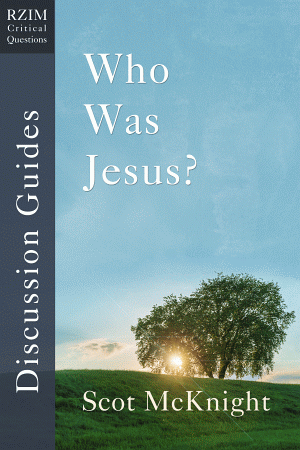 Who Was Jesus?
RZIM Critical Questions Discussion Guide
Highlights
Engaging discussion questions
Clear insights from experts in their fields
Helpful notes for leaders
Product Details
There are some questions you can't avoid, no matter what you believe. The question "Who is Jesus?" has perplexed every generation since he walked the earth. Was he anything more than a teacher? What does it matter if he did or didn't rise from the dead? This Critical Question Discussion Guide by Scot McKnight provides a forum for exploring this question in a group or individually. Here are the engaging insights of world-class philosophers and theologians to help you.
The series editor is Ravi Zacharias, a renowned Christian scholar and author, and founder of Ravi Zacharias International Ministries.
About the Author
Scot McKnight (Ph.D., University of Nottingham) is professor of New Testament at Northern Seminary in Lombard, Illinois. He is the author of The Jesus Creed, The King Jesus Gospel, A Community Called Atonement, Embracing Grace, The Real Mary and commentaries on James, Galatians and 1 Peter, and coeditor of the award-winning Dictionary of Jesus and the Gospels. He is also a widely recognized blogger at the Jesus Creed blog. His other interests include golfing, gardening and traveling.