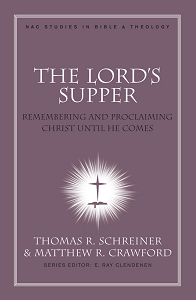 New American Commentary Studies in Bible & Theology: The Lord's Supper
Remembering and Proclaiming Christ until He Comes
Product Details
About the New American Studies in Bible and Theology

The books in this series often take a biblical difficulty as their point of entry, remembering B.F. Westcott's point that "unless all past experience is worthless, the difficulties of the Bible are the most fruitful guides to its divine depths."
This new series is to be a medium through which the work of evangelical scholars can effectively reach the church. It will include detailed exegetical-theological studies of key pericopes such as the Sermon on the Mount and also fresh examinations of topics in biblical theology and systematic theology. It is intended to supplement the New American Commentary, whose exegetical and theological discussions so many have found helpful. These resources are aimed primarily at church leaders and those who are preparing for such leadership. We trust that individual Christians will find them to be an encouragement to greater progress and joy in the faith. More important, our prayer is that they will help the church proclaim Christ more accurately and effectively and that they will bring praise and glory to our great God.
About The Lord's Supper
"As they were eating, Jesus took bread, blessed and broke it, gave it to the disciples, and said, 'Take and eat it; this is My body.'" -Matthew 26:26 (HCSB)
A follow-up to Believer's Baptism in the New American Commentary Studies in Bible & Theology series, The Lord's Supper explores the current Baptist view of the communion sacrament. Contributors include Andreas Köstenberger ("The Lord's Supper as a Passover Meal"), Jonathan Pennington ("The Last Supper in the Gospels"), Jim Hamilton ("The Lord's Supper in Paul"), and Michael Haykin ("Communion in the Early Church"). Adding a helpful perspective, chapters are also provided on the Roman Catholic, Lutheran, Calvinist, and Zwinglian views of communion.
About the Authors
Thomas R. Schreiner (Ph.D. Fuller Theological Seminary) is the James Buchanan Harrison professor of New Testament Interpretation and associate dean of Scripture and Interpretation at The Southern Baptist Theological Seminary. He is also the author of several books and many articles on New Testament interpretation and biblical theology and serves as preaching pastor of Clifton Baptist Church in Louisville, Kentucky.
Matthew R. Crawford is a graduate of Union University (B.A.) and The Southern Baptist Theological Seminary (Adv. M.Div.) and is pursuing a PH.D. in patristic exegesis and theology at Durham University in England.
Endorsements
The Lord's Supper can be celebrated perfunctorily when people are perhaps too unthinking and ritualistically habitual in its practice. But after feasting on this magnificent volume, profound insights emerge that affect understanding, observance, and worship. Tom Schreiner and Matthew Crawford have assembled an outstanding array of Baptist authors drawn from diverse disciplines of biblical studies, historical theology, church history, theology, and spiritual theology. Combined they give us one of the most important volumes on the Lord's Supper that traces its practice and theological understanding throughout history, and certainly clarifies our own practice, theology, and worship. Highly recommended.
While Schreiner and Crawford stress that this volume was written by Southern Baptists for Southern Baptists, it would be a pity if this emphasis prevented their book from receiving the very wide readership that it deserves. Conversant with the highest levels of scholarship but written in very accessible prose, the contributors accurately survey the relevant biblical teaching on the Lord's Supper, the major historical branches of thought that developed concerning it, and the key themes that contemporary theology and church life should highlight. The anthology is at once meticulous, persuasive, and timely, creating the best concise introduction to the topic now available.