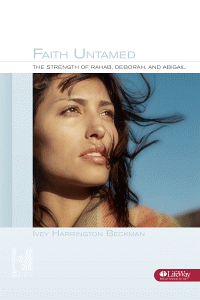 Women of Purpose Series: Faith Untamed
The Strength of Deborah, Rahab and Abigail
Product Details
Faith Untamed is the study of what happens when biblical heroines, unapologetic about upsetting the status quo, let loose the power of God through their circumstances. Rahab, Deborah, Abigail, and even Jael, were forces of nature and nurture who embraced their femininity without compromising the strength inherent in their being.
Stand with Rahab in her crisis of belief. Journey through Deborah's internal dialogue on the eve of war. Sense the power in Jael's resolve. Experience the quiet strength and cunning of Abigail. (6 Lessons)
The Women of Purpose series highlights ordinary women God used in extraordinary ways. Exploring the hearts of these women helps modern women discover not only the biblical women, but also themselves. This unique series blends fun elements, interactive discovery-focused Bible study, creative experiential activities, and wonderful opportunities to connect with God, with other women, and with your heart.
This Women of Purpose volume is LESSONmaker Compatible!
Using Women of Purpose in LESSONmaker in Wordsearch 11 allows you to make customized lessons in a flash. But even if you don't have WS11, this volume is fully functional for group study. Simply print out each lesson, which is nicely formatted for group handouts. LESSONmaker simply makes any lesson even more powerful because of the access to additional discussion questions and material found in your digital library.
Check out a sample of this book by clicking on the yellow Sample button underneath the book cover image.