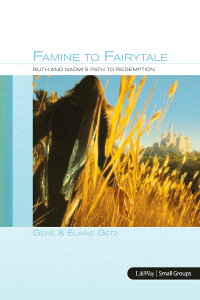 Women of Purpose Series: Famine to Fairy Tale
Ruth and Naomi's Path to Redemption
Product Details
Famine to Fairy Tale is the study Ruth and Naomi, two incredible women who teach us how God can bring incredible joy out of tragic circumstances. From the opening scene in the Book of Ruth, filled with famine and tragedy, to the almost fairy tale ending, we see the real-life struggles. Yet, their faith and devotion through the pain and tragedy of life led each to experience unexpected joys, and the blessings that God was longing to give them. In the same way, God has unexpected joys for each of us today.
The Women of Purpose series highlights ordinary women God used in extraordinary ways. Exploring the hearts of these women helps modern women discover not only the biblical women, but also themselves. This unique series blends fun elements, interactive discovery-focused Bible study, creative experiential activities, and wonderful opportunities to connect with God, with other women, and with your heart.
This Women of Purpose volume is LESSONmaker Compatible!
Using Women of Purpose in LESSONmaker in Wordsearch 11 allows you to make customized lessons in a flash. But even if you don't have WS11, this volume is fully functional for group study. Simply print out each lesson, which is nicely formatted for group handouts. LESSONmaker simply makes any lesson even more powerful because of the access to additional discussion questions and material found in your digital library.
Check out a sample of this book by clicking on the yellow Sample button underneath the book cover image.
About the Author
Dr. Gene Getz was the host of "Renewal Radio" for 24 years, heard on stations across the U.S. as well as online worldwide. A church-planting pastor in the Dallas Metroplex since 1972, he is also president of the Center for Church Renewal, pastor emeritus of Chase Oaks Church (formerly Fellowship Bible Church North) in Plano, Texas, and an adjunct professor at Dallas Theological Seminary.
Elaine Getz has served with Gene in full-time Christian ministry since 1956 as mother of three, professor's wife, and seminar leader.