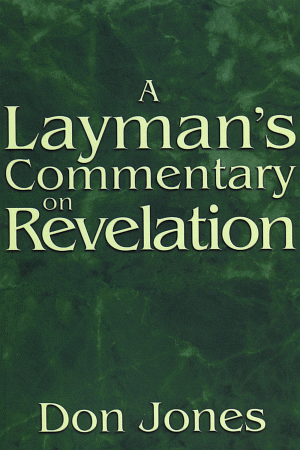 A Layman's Commentary on Revelation
Product Details
A Layman's Commentary on Revelation traces a journey through the vision John records in the Bible's last book. Along the way, questions about this world's end, God's judgment of all people, and His promises of new life in the kingdom find their answers in Revelation's visions of drama, worship, and the apocalypse.
Author Don E. Jones brings more than five decades of experience in preaching and teaching the Bible to his commentary, presenting a close reading of the biblical text, the insights of noted Bible scholars, and the answers to questions that often arise when individuals encounter the world of Revelation. This guide describes the overarching narrative of Revelation as a seven-act drama. Along the way, treating each passage in turn, the commentary offers Revelation's answers to challenging questions: What will happen when the world ends? Who is the anti-Christ? When is the Second Coming? What will God's judgment look like? To provide addition assistance, four charts and four appendices present supplementary information on the book of Daniel and its vision of the end times. If you wonder how to make sense of Revelation, find yourself puzzled by its strange imagery, or seek answers to the ultimate questions of life, then A Layman's Commentary on Revelation can guide you through the pages of John's vision. It takes your searching questions and God's answers seriously, giving both attention in light of the cosmic drama John shares with Christians of all ages.
About the Author
Don Jones has served in the ministry for 60 years as a pastor and evangelist. During those years he has led untold numbers to faith in Christ. He loves to help people understand the Scriptures and deepen their faith. He now resides in Montana.
Endorsements
Some commentaries on Revelation deny the futuristic prophecy of the book, so you should not use them. Other futuristic commentaries are so technical that it is difficult for the average layperson to use...Jones has taken difficult passages and interpreted them in an easy-to-read and easy-to-understand format.