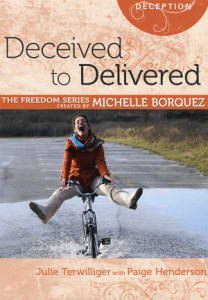 Deceived To Delivered
Part of the Freedom Series
This title works with the following Wordsearch products
Desktop
Product Details
She never thought she would have an affair, but it happened. How do you set your boundaries with men? How do you get out of the relationship after you've crossed the line? How can you rebuild your marriage? Many people have been tempted and deceived with sexual harassment in the workplace and spiritual abuse. Learn what to avoid when you're tempted to let lies and secrets take over your life. This booklet includes a Bible study to help you or someone you know get back on the road to healing and wholeness.
Julie Terwilliger tells her story of trusting a mentor who got too close. Each time he took a small liberty, Julie excused it. Soon he was touching her, then kissing her. The next thing she knew, she was having an affair. This is her story of reaching out to God for help and finding the strength to confess to her husband and rebuild her marriage. Find out how the Lord healed her, helped her set boundaries, and move past the shame of failure.
Deceived to Delivered includes a Bible study with fill-in-the blanks that helps women understand the brokenness that makes us vulnerable to others. Paige Henderson's biblical counsel walks us through the stories of King David, and Abraham and Sarah to understand that God meets us in our neediness and pain.
Deceived to Delivered lists the danger signs of sexual harassment and spiritual abuse and explains why powerful people have such a hold on us. Licensed counselor Sharon Kay Ball gives practical advice on steps to freedom and how to deal with the shame and forgiveness.
Deceived to Deliveredwill bring you hope and wholeness. It will speak to your heart and will strengthen your faith. It includes questions and Scripture passages − along with space to journal.
About the Authors
Julie Terwilliger's emotionally deprived past set her up for spiritual deception and abuse. Believing the lies of a religious mentor, she fell into an adulterous relationship that entangled and threatened to drown her until God's redemption and healing broke through.
Paige Henderson is sought after nationally and internationally as a speaker who loves unlocking the passion in the hearts of women. Paige and her husband, Richard, founded Fellowship of the Sword Ministries.
Endorsements
We live in a broken fallen world, and sometimes need help in making sense of the hurtful, painful things in our lives. These books are real stories and can help women find freedom from the paralyzing effects of betrayal, fear and deception through the liberating truths of Scripture.
The Freedom Series deals with many issues that I have come across during the decades I have counseled people at my church. Each book is great for its designed application. However, the Fear to Courage book stands out the most to me since so many are driven by fear. This book is so Bible-based, very direct, easy to understand, and also applicable. It is refreshing to have a resource that doesn't just talk about an issue, but shows how to apply biblical concepts to it. I highly recommend this series!
Life is like a priceless crystal vase which falls from a safe shelf and explodes. Shatters. Broken. In a thousand ways we feel the pain of life. Oh it hurts . to the point of hiding. Despair becomes relentless. Hate begins to consume us. Disillusioned. We search for wholeness. We pray. We need someone to show us how to pick up the pieces of our life. And then one day God answers our prayers with The Freedom Series. Lunch-size substantial intelligence from authors, with real stories of their own divorce, rape, paralyzing fear, abandonment, abuse, illicit affairs, and other tragedies. Each mini-book offers rich Bible based hope from God, expert counselors and no-nonsense how to recover steps. All designed so you can be free to smile again, trust wiser, grieve effectively and live with joy."