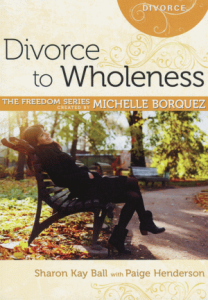 Divorce to Wholeness
Part of the Freedom Series
This title works with the following Wordsearch products
Desktop
Product Details
When divorce has left you feeling like an open−heart surgery patient without the anesthetic, where can you go for divorce care? Divorce to Wholeness has stories from women just like you−those who have been through a tragedy they did not want, and found recovery. Authors Michelle Borquez and Sharon Kay Ball can promise you this: you will live, you will laugh, and you will love again. Walk through Christian divorce recovery with these women who know how terrible you feel. You will survive just like they did, and gain incredible divorce advice to one day give hope to others.
Sharon Kay Ball shares her journey through the waves and deserting sands of divorce. When it felt like Jesus was miles away on a ship sailing farther and farther in the opposite direction, he was actually right beside her. Likening her divorce to the stormy seas, Sharon Kay Ball shares the humiliating feelings that kept her from accepting God's plan. Life after divorce was hard for Sharon. Juggling kids and a job as a psychotherapist made it hard for her to allow herself to go through the proper steps of divorce recovery.
Divorce to Wholeness lists the stages of life after divorce and eases worried moms and working professionals alike in their struggle for a balanced life. Licensed counselor Sharon Kay Ball gives practical advice on steps to freedom and how to deal with divorce.
Divorce to Wholeness will bring you hope and wholeness. It will speak to your heart and will strengthen your faith. It includes questions and Scripture passages − along with space to journal.
About the Authors
Sharon Kay Ball, licensed professional counselor, is an expert in divorce adjustment, having counseled many women and children in these circumstances. When the trauma of betrayal and infidelity rocked her own world, Sharon's own divorce resulted in new-found ability to blend knowledge with personal experience of divorce to help guide others through their own journeys.
Paige Henderson is sought after nationally and internationally as a speaker who loves unlocking the passion in the hearts of women. Paige and her husband, Richard, founded Fellowship of the Sword Ministries.
Endorsements
The book, Divorce to Wholeness, is a healing balm to those hurting because of divorce. Chapter 1 tells the story of Sharon Kay Ball, a professional therapist who endured the trauma of divorce because of betrayal and infidelity. The separated and divorced can relate to her pain, but Sharon doesn't stop there. She offers the reader hope and healing, a redeemed life. Sharon Kay Ball now helps others in their own journey. Chapter 2 presents a Bible study, but not just any ordinary Bible study. This one extends a helping hand to the wounded woman and gives her Bible promises to ponder and cling to and questions to help her verbalize her thoughts and feelings and feel hope again. Chapter 3 leads the woman through the steps to freedom through shock and denial, anger, sadness and bargaining, acceptance and hope. The concrete suggestions at the end give mothers going through divorce specific ways to walk their children through the divorce process. I highly recommend this book.
We live in a broken fallen world, and sometimes need help in making sense of the hurtful, painful things in our lives. These books are real stories and can help women find freedom from the paralyzing effects of betrayal, fear and deception through the liberating truths of Scripture.
The Freedom Series deals with many issues that I have come across during the decades I have counseled people at my church. Each book is great for its designed application. However, the Fear to Courage book stands out the most to me since so many are driven by fear. This book is so Bible-based, very direct, easy to understand, and also applicable. It is refreshing to have a resource that doesn't just talk about an issue, but shows how to apply biblical concepts to it. I highly recommend this series!
Life is like a priceless crystal vase which falls from a safe shelf and explodes. Shatters. Broken. In a thousand ways we feel the pain of life. Oh it hurts . to the point of hiding. Despair becomes relentless. Hate begins to consume us. Disillusioned. We search for wholeness. We pray. We need someone to show us how to pick up the pieces of our life. And then one day God answers our prayers with The Freedom Series. Lunch-size substantial intelligence from authors, with real stories of their own divorce, rape, paralyzing fear, abandonment, abuse, illicit affairs, and other tragedies. Each mini-book offers rich Bible based hope from God, expert counselors and no-nonsense how to recover steps. All designed so you can be free to smile again, trust wiser, grieve effectively and live with joy."