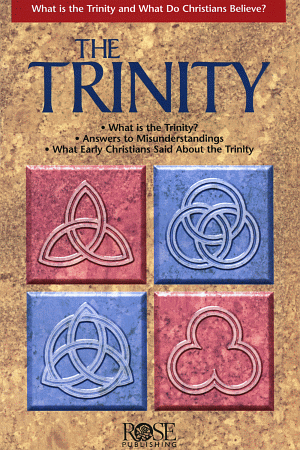 The Trinity
What is the Trinity and What Do Christians Believe?
Highlights
A clear easy-to-understand definition of the Trinity doctrine
The 60 Scriptures used to support the belief that the Father, Son, and Holy Spirit are all God, not three names for the same Person.
Chart comparing the power and attributes of the 3 Persons of the Trinity
Chart Comparing the "Unique" Traits of God and Jesus
Product Details
The Trinity is one of the most central doctrines in Christianity, one of the tenets that is completely unique to to the Christian faith. This glossy, full color Trinity Pamphlet explains the Trinity in clear easy-to-understand terms and illustrations. This basic booklet with a simple explanation of the Trinity also answers 6 common misunderstandings about the God the Father, Son, and Holy Spirit. This is a perfect basic Trinity Bible study for those wishing to understand their faith and defend the Trinity.
The Trinity is one of the great mysteries of the Faith. Defining the Trinity is both simple and complex: God is One, yet God exists in 3 Persons: Father, Son and Holy Spirit. It is a biblical concept that goes beyond the human understanding. This Trinity pamphlet gives a basic explanation and definition of this important Christian belief.
his Trinity explanation also answers 6 key misunderstandings about God. For example, Jehovah's Witnesses do not believe in the Trinity. They point out Bible verses that appear to contradict the Christian belief in the Trinity. But their interpretation is incorrect. This easy-to-use Trinity booklet presents compelling evidence of a Triune God and defense of the Trinity doctrine. This booklet is useful for a Trinity Bible Study, Sunday school lesson, homeschool curriculum, or evangelism.
Endorsements
Rose Publishing has a an excellent fold–out pamphlet on the Trinity that is lay–friendly and deals with cultic objections to the doctrine. HIGHLY recommended.