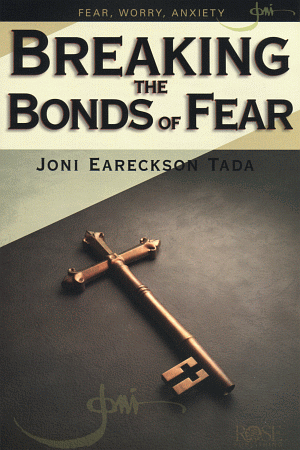 Breaking The Bonds Of Fear
Fear, Worry, Anxiety
This title works with the following Wordsearch products
Desktop
Product Details
Is fear causing you to lose sleep, stress out, or worry? Joni Eareckson Tada sheds light on the bondage of fear in her pamphlet. Breaking the Bonds of Fear is about an unhealthy fear of man that a lot of Christians live their whole lives with. Joni explains that our aim is to decrease our sinful fear of man, and increase our reverent fear of the Lord. We can develop a fear of the Lord by trusting in Him and reading the Bible.
There might be times in your life where you're not sure if God really cares about your circumstances or realizes the state you're in, but taking a look at specific stories in the Bible will help you see God's bigger picture. God wants you to trust in him, and when you read this pamphlet, you will clearly see how much God cares for you.
Joni also talks about the fear that was generated from her tragic diving accident, and the steps that were taken to grow confidence in the Lord after her tragic accident that left her quadriplegic. Even death is not something to fear, when our trust rests in the only one who conquered death! Let Jesus be the ballast of your ship, for it is only then that you will find peace and restoration from fear.
About the Author
Joni Eareckson Tada offers hope to people struggling with health and emotional challenges. After a 1967 diving accident left Joni Eareckson Tada a spinal cord-injured quadriplegic, she embarked on a lifelong study to make sense of suffering from God's perspective. Joni Eareckson Tada is now an international advocate for individuals with disabilities, and the founder of the non-profit organization, Joni & Friends.
Endorsements
When Joni Eareckson Tada writes about hardship, it's real. When she says good can come from suffering, I wanted to know how....I wanted to gain a deeper understanding of the adverse circumstance I'm in. I was surprised that such a small pamphlet could offer such a large portion of hope and courage.