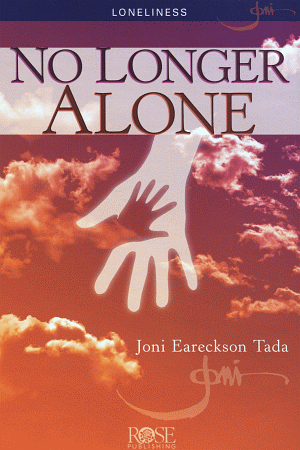 No Longer Alone
Loneliness
Product Details
Are you or someone you love experiencing great suffering in loneliness? Do you long for intimate friendships? Joni Eareckson Tada weaves in a true story about a woman who was devastated by loneliness with how she sought God in her pain. There is hope for those who find themselves in a "desert of solitude". Jesus understands our pain because he endured a great amount of loneliness when he was on the cross.
About the Author
Joni Eareckson Tada offers hope to people struggling with health and emotional challenges. After a 1967 diving accident left Joni Eareckson Tada a spinal cord-injured quadriplegic, she embarked on a lifelong study to make sense of suffering from God's perspective. Joni Eareckson Tada is now an international advocate for individuals with disabilities, and the founder of the non-profit organization, Joni & Friends.
Endorsements
When Joni Eareckson Tada writes about hardship, it's real. When she says good can come from suffering, I wanted to know how....I wanted to gain a deeper understanding of the adverse circumstance I'm in. I was surprised that such a small pamphlet could offer such a large portion of hope and courage.