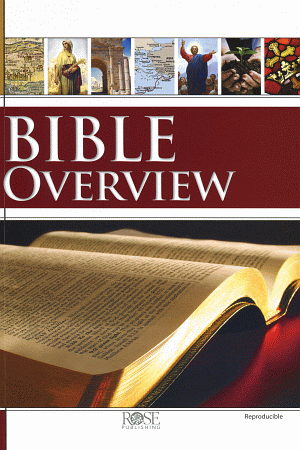 Bible Overview Book
This title works with the following Wordsearch products
Desktop
Product Details
New! Bible Overview Helps You Make Sense of the Bible — at a glance
The Bible is made up of 66 books, written over 1600 years, by about 40 writers. And Bible Overview will give you a grasp of each book quickly in this full-color handbook.
People need to know:
Where do I start?
What is the most important thing I should know about this book?
How does it fit with the rest of the books of the Bible?
This full-color guide gives you a fantastic 2-to-6 page overview of each book of the Bible, and includes—
Purpose -Author -Date written
Key themes - Key verses
Photos, maps and time lines
Summary of the key teachings
Outline of the stories in the book
What it tells us about Jesus
What we can learn from it today
Perfect for personal study or for the Bible study that wants to hand out overviews for each book. When you want to learn the Bible, you want a clear and simple overview that makes it easy. You want to understand the main message and how it all focuses on God's salvation through Jesus Christ.
Some people use handbooks, but they are too detailed and have too much information. Commentaries are 3-inches thick with tiny type from edge to edge. You need something easy and colorful, filled with basic information. And you want to understand who wrote the book and why. You want to know what this book tells us about God. And why this book is important to us today.
Endorsements
Bible Overview is a teacher's dream. It is a beautiful book with informative content and summaries. It stirs a passion to read the Bible.
Most people need a little help understanding the Bible. Bible Overview provides a box top to the puzzle so the reader can easily see how the pieces fit together. Excellent resource that I recommend for every Bible student.
The Rose Bible Overview is the kind of product that changes lives. Beautifully conceived, it combines textual insights with archaeological evidence, maps and charts. A goldmine for Sunday school teachers—and a gift to any believe who wants to grow in Christ.