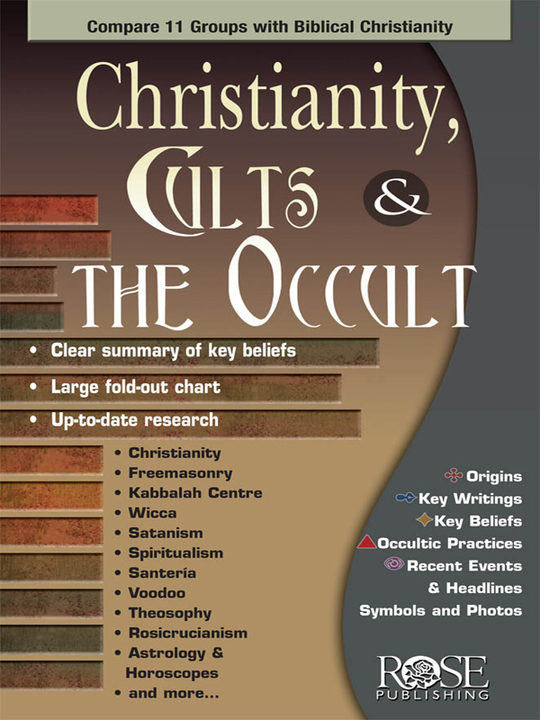 Christianity, Cults, and the Occult
Compare 11 Groups with Biblical Christianity
This title works with the following Wordsearch products
Desktop
Product Details
Many teenagers and adults know at least one person who has been involved with some sort of occult practice, whether it be reading horoscopes or being interested in astrology. A Barna Group survey reveals that nearly 75% of all U.S. teens have dabbled in some form of psychic activity or witchcraft.
Christianity, Cults, and the Occult takes a close look at eleven cultic movements that have a wide range of occult connections and compares them to the origins and key beliefs of Christianity. Christianity, Cults, and the Occult helps Christians understand their own beliefs and explains the backgrounds of different occults, a list of occult terms and definitions, as well as Scriptural warnings against the occult.
People enjoy discussing this topic and the pamphlet will equip them to know how deal with the occult when it confronts them in their schools or neighborhoods. Christianity, Cults, and the Occult explains why people are attracted to occult groups like Kabbalah which include people like Madonna and Demi Moore.
Christians need to understand what's behind the different cults and occult so you can express to others how and why your beliefs are different. Christianity, Cults, and the Occult addresses the following topics for each of the 11 movements:
Origins (founders, dates, headquarters)
Key writings
Key beliefs
Occultic practices
Affiliated organizations
Symbols and photos
News and controversies
Below are the 11 cults examined in Christianity, Cults, and the Occult:
Freemasonry
Kabbalah
Wicca/Neopaganism
Satanism
Spiritualism
Santería
Voodoo
Theosophy
Anthroposophy
Rosicrucianism
Eckankar
More than ever, you need clear, reliable information so you can speak intelligently when talking about your Christian beliefs. Christianity, Cults, and the Occult provides you with information that will help you understand, pray for, and offer help to others who are interested in the occult.
About the Editor
Paul Carden is a longtime specialist in the field of cults and new religions around the world. He is Executive Director of the Centers for Apologetics Research (CFAR), and general editor of Christianity, Cults and Religions. He is former co-host of the nationwide "Bible Answer Man" radio program. Paul has devoted nearly 30 years of his life to cult-related research and outreach in Latin America, Africa, eastern Europe, and the former Soviet Union. In 1980, Paul joined the Christian Research Institute (CRI) under its founder, Walter Martin. For six of his fifteen years at CRI Paul served as a missionary in Sao Paulo, Brazil, and for six years he co-hosted the live, nationwide "Bible Answer Man" radio broadcast alongside Ron Rhodes, Robert M. Bowman, Jr., Kenneth Samples, and other noted apologists. During his time at CRI he was also the ministry's director of international outreach and a senior editor of the Christian Research Journal (1989-1995).