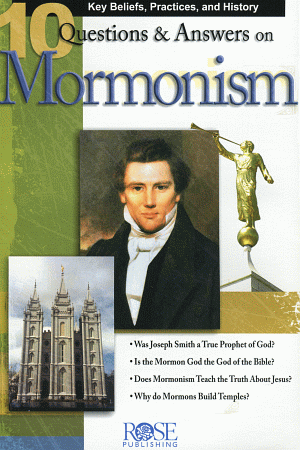 10 Questions & Answers on Mormonism
Key Beliefs, Practices, and History
Product Details
What do Mormons teach about Jesus, the Trinity, God, baptism for the dead, and how to be saved? The Latter-day Saints often use Christian terms, but mean something completely different. The 10 Questions & Answers on Mormonism bestselling pamphlet will help you to compare Christian beliefs with Mormon beliefs.
This pamphlet provides a clear summary of what Mormons (Latter-day Saints) believe, their practices, and history. 10 Q & A's offers sound tips for interacting with Mormon friends, neighbors, and co-workers, and much more.
10 Questions & Answers on Mormonism is an excellent tool for outreach and missions groups, or for anyone wanting to understand more about this controversial religious group. This compelling Q & A pamphlet examines 10 critical questions regarding the beliefs and practices of Latter-day Saints (LDS) and responds with what the Bible teaches about each:
Did the Christian church really need to be restored?
Was Joseph Smith a true prophet of God?
What is Mormon scripture?
Is the Bible trustworthy Scripture?
Is the Book of Mormon an ancient document?
Is the God of Mormonism the God of the Bible?
Does Mormonism teach the truth about Jesus?
Can we earn our salvation?
Why do Mormons build temples?
Does Mormonism teach polygamy?
10 Questions & Answers on Mormonism pamphlet provides answers to 10 of the most important questions regarding Mormonism.
About the Editor
Paul Carden is a longtime specialist in the field of cults and new religions around the world. He is Executive Director of the Centers for Apologetics Research (CFAR), and general editor of Christianity, Cults and Religions. He is former co-host of the nationwide "Bible Answer Man" radio program. Paul has devoted nearly 30 years of his life to cult-related research and outreach in Latin America, Africa, eastern Europe, and the former Soviet Union. In 1980, Paul joined the Christian Research Institute (CRI) under its founder, Walter Martin. For six of his fifteen years at CRI Paul served as a missionary in Sao Paulo, Brazil, and for six years he co-hosted the live, nationwide "Bible Answer Man" radio broadcast alongside Ron Rhodes, Robert M. Bowman, Jr., Kenneth Samples, and other noted apologists. During his time at CRI he was also the ministry's director of international outreach and a senior editor of the Christian Research Journal (1989-1995).