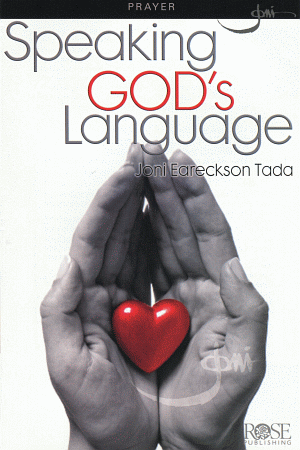 Speaking God's Language
Prayer
Product Details
How can we draw closer to God in prayer? How can we "speak God's language"?
The Bible encourages us to bring our worship, praise, thanksgiving, and petitions to God. As Christians grow in the discipline of praying, it becomes clear that there is always more to learn.
Author Joni Eareckson Tada shares insights and personal stories that will hone your skill of including scripture in your prayers. As she puts it, "We can draw a lot closer to God in prayer when we learn to speak his language."
In this pamphlet you will learn how to pray using the Scriptures, Bible passages for different situations and how to let prayer change you.
About the Author
Joni Eareckson Tada offers hope to people struggling with health and emotional challenges. After a 1967 diving accident left Joni Eareckson Tada a spinal cord-injured quadriplegic, she embarked on a lifelong study to make sense of suffering from God's perspective. Joni Eareckson Tada is now an international advocate for individuals with disabilities, and the founder of the non-profit organization, Joni & Friends.
Endorsements
When Joni Eareckson Tada writes about hardship, it's real. When she says good can come from suffering, I wanted to know how....I wanted to gain a deeper understanding of the adverse circumstance I'm in. I was surprised that such a small pamphlet could offer such a large portion of hope and courage.