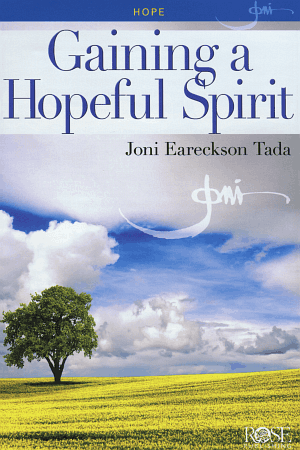 Gaining a Hopeful Spirit
Hope
This title works with the following Wordsearch products
Desktop
Product Details
Sometimes, finding hope in a tough situation is easier said than done. Gaining a Hopeful Spirit challenges us to receive hope from the Lord. When life leaves us desolate and foggy, the Lord wants to pick us back up and show us how hopeful we really can be. Joni has helped countless people pick their heads up when the road ahead seemed bleak. As a woman who has been through a tragic accident that left her quadriplegic, she can speak first-hand about Satan's schemes that will keep you from living a life of worship.
How can you be a source of joy for someone else when you are going through a hard time? Joni draws you closer to God as you realize that the hope that can get you through even the toughest of times only comes from God our Father. After reading this pamphlet, you'll be able to help pass on the hope to friends and family members experiencing hopeless times.
About the Author
Joni Eareckson Tada offers hope to people struggling with health and emotional challenges. After a 1967 diving accident left Joni Eareckson Tada a spinal cord-injured quadriplegic, she embarked on a lifelong study to make sense of suffering from God's perspective. Joni Eareckson Tada is now an international advocate for individuals with disabilities, and the founder of the non-profit organization, Joni & Friends.
Endorsements
When Joni Eareckson Tada writes about hardship, it's real. When she says good can come from suffering, I wanted to know how....I wanted to gain a deeper understanding of the adverse circumstance I'm in. I was surprised that such a small pamphlet could offer such a large portion of hope and courage.