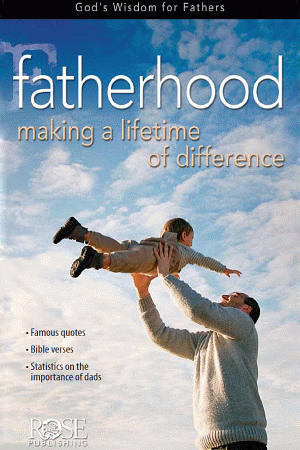 Fatherhood
Make a Lifetime of DIfference
This title works with the following Wordsearch products
Desktop
Product Details
Despite what you see on TV, fathers are extremely important in the lives of their children! This pamphlet uses statistical data and biblical wisdom and a good sense of humor to show the importance of fathers in today's changing society. Fatherhood: Making a Lifetime of Difference is a perfect overview of God's important calling for men to be true fathers. This pamphlet shows that God is our best model for fathering, and explains the biblical teachings of love, instruction, and discipline.
In Fatherhood, you will find:
A colorful, clear, and positive tone. Short and easy to read, this pamphlet includes dozens of key Bible passages on character and raising children.
Humorous quotes about fathers, such as this classic: "When I was 14...my father was so ignorant I could hardly stand to have the old man around. But when I got to be 21, I was astonished at how much he had learned in seven years."
Section on forgiveness for men whose own fathers fell short of being loving dads.
Ideas for interacting with children and training them.
Section on honesty and integrity
Statistics on the importance of fathers' involvement with children. Many studies prove that fathers make a difference in helping kids avoid drug and alcohol abuse, early sexual activity, and dropping out of school.