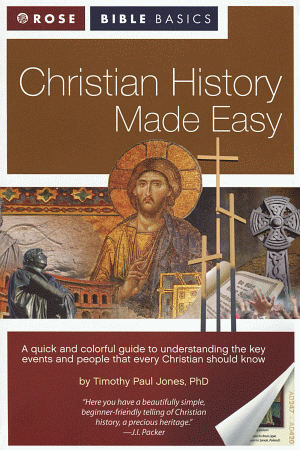 Christian History Made Easy
A quick and colorful guide
Highlights
Covers major events in church history
Includes a 12-week Study Guide for classroom use, church groups of personal study
Product Details
Christian History Made Easy summarizes the most important events in the history of the church, from the time of Jesus to modern day. Christian History Made Easy explains early church history, the Church Councils, the Great Schism, the Crusades, Francis of Assisi, John Wycliffe, Martin Luther, the Protestant Reformation, and more. Christian History Made Easy presents key church history events and great Christian leaders everyone should know, along with full-color church history timelines, photos, pictures, and maps. The study guide and worksheets in the back makes this book an excellent Bible Study, adults Sunday school topics, or homeschool curriculum. Author Timothy Paul Jones makes Christian history refreshingly fun while at the same time informing Christians about the history of the Christian faith.
About the Author
Timothy Paul Jones, PhD, serves as professor of Leadership and Church Ministry at The Southern Baptist Theological Seminary in Louisville, Kentucky. He is also the author of Misquoting Truth and received the Baker Book House Award for excellence in theological scholarship. In addition to receiving the Bachelor of Arts in biblical studies and the Master of Divinity with a focus on historical theology, Jones has earned the Doctor of Philosophy degree from Southern Seminary. His academic research has earned the Scholastic Recognition Award from the North American Professors of Christians Education.
Endorsements
Rose's product line includes a wonderful collection of high quality, visually attractive materials that lend themselves to learning the basics of the Christian Faith. In most areas where alternative views exist, they are faithfully presented leaving the reader to decide which best fits their understanding of scripture..I have used Christian History Made Easy for my Sunday school class and found it to be very well done. This book has a great collection of auxiliary Study Guide questions. The author, Timothy Paul Jones is obviously a practiced teacher. I used an early edition. The recent upgrade of this package looks even better.
Dr. Timothy Paul Jones is a brilliant young biblical scholar who helps simplify the complex. His [resources] are great and sorely needed during our time when many are biblically illiterate and know even less about Church history.
Church history is not about names, dates, and facts. It is about the flesh and blood people of God and the life and death issues that have shaped their struggles and joys for two thousand years. Christian History Made Easy makes this story come alive. I recommend it enthusiastically!
Timothy Paul Jones' writings are always engaging, compelling, and often humorous. He captivates me with everything he writes. this isn't the first great book that Timothy's written, and it won't be the last. Make certain you don't miss it!