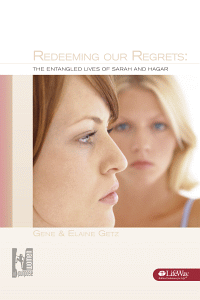 Women of Purpose Series: Redeeming Our Regrets
The Entangled Lives of Sarah and Hagar
Product Details
Redeeming Our Regrets: The Entangled Lives of Sarah and Hagar examines two women who led distinctly different outward lives, yet had a great deal in common. Both women had regrets, but God's intense love rescued them both. Wonderful study for women who long for redemption from hurtful, haunting regrets. Each study provides role models for 21st century women of all ages who have a desire to live wholeheartedly for Jesus. (6 lessons)
This Women of Purpose volume is LESSONmaker Compatible!
Using Women of Purpose in LESSONmaker in Wordsearch 11 allows you to make customized lessons in a flash. But even if you don't have WS11, this volume is fully functional for group study. Simply print out each lesson, which is nicely formatted for group handouts. LESSONmaker simply makes any lesson even more powerful because of the access to additional discussion questions and material found in your digital library.
Check out a sample of this book by clicking on the yellow Sample button underneath the book cover image.
About the Author
Dr. Gene Getz was the host of "Renewal Radio" for 24 years, heard on stations across the U.S. as well as online worldwide. A church-planting pastor in the Dallas Metroplex since 1972, he is also president of the Center for Church Renewal, pastor emeritus of Chase Oaks Church (formerly Fellowship Bible Church North) in Plano, Texas, and an adjunct professor at Dallas Theological Seminary.
Elaine Getz has served with Gene in full-time Christian ministry since 1956 as mother of three, professor's wife, and seminar leader.