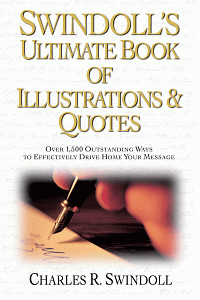 Swindoll's Ultimate Book of Illustrations & Quotes
Over 1,500 Outstanding Ways to Effectively Drive Home Your Message
Highlights
Over 1,500 entries
Organized in A-Z format by topic
Extensively cross-referenced
Previously published as The Tale of the Tardy Oxcart.
Product Details
No one tells a story like Charles Swindoll. This book is the perfect companion for pastors, teachers, ministry leaders, writers, and speakers. It is full of poignant tales, real-life funny stories, and perfect punch lines.
The book includes a lifetime of Chuck's favorite stories, illustrations, anecdotes, poems, and quotations.
It's now easier than ever to find the perfect story or anecdote to hook listeners and hold their attention. Listeners and readers will laugh, cry, think, and get the point…and remember it.
If you need just the right illustration to illustrate a biblical truth, to capture the audience's attention, to clarify a point, or to draw a conclusion this book will help you find it. With the right example, you can turn hostile skeptics into interested participants and turn people around spiritually.
About the Author
Dr. Charles R. Swindoll is president of Dallas Theological Seminary and the host of the nationally syndicated radio program Insight for Living. He has authored more than twenty-five best-selling books, including The Grace Awakening and Laugh Again. His practical application of the Bible to everyday living makes God's truths a reality in helping people. Dr. Swindoll and his wife Cynthia reside in Dallas, Texas.