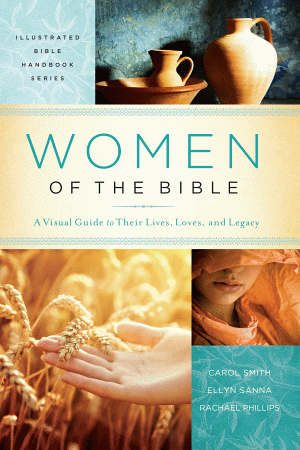 Women of the Bible
A Visual Guide to Their Lives, Loves, and Legacy
Product Details
They didn't get as much ink—but they contributed amazing things to the history of God's people. Learn all about them in Women of the Bible, an intriguing, illustrated reference book from Barbour Publishing. Covering women's roles and jobs, daily experiences, and interactions with Bible men, this book brings clarity to some of the strange, confusing, and forgotten stories of scripture. Also featuring lists of every named woman of scripture and most of the unnamed females, Women of the Bible is fully illustrated in color. It's "readable reference," equally helpful for study or pleasure.
In clear, readable text, you'll learn more about biblical women's
Roles and Jobs
Daily Experiences
Interactions with Men
Relationships with Other Women
Health and Beauty Concerns
Childbearing, Marriages, Aging, and More
About the Authors
Carol Smith is a freelance writer in Nashville, Tennessee. She has contributed to numerous projects in the Christian book industry.
Rachael Phillips is a freelance writer in Indiana. Married with three children, she has written four previous Heroes of the Faith books. She has authored a novel, biographies, and co-authored a women's reference guide and novella collections, al for Barbour Publishing.
Ellyn Sanna is the author of more than thirty books. She is also the executive editor at Harding House Publishing Service, where she has helped to create hundreds of educational books for young adults. She and her family (along with assorted animals) make their home in upstate New York.