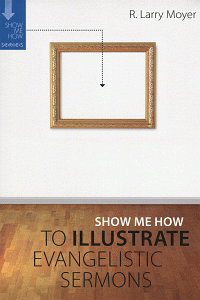 Show Me How to Illustrate Evangelistic Sermons
Product Details
In a definitive volume on how to illustrate sermons, author and speaker R. Larry Moyer shows pastors and speakers how to clearly present the good news with effective and memorable stories and quotations. With hundreds of pages of examples, this is the how-to book for illustrating not only evangelistic messages but all sermons.
Good illustrations powerfully connect ideas to experience. They make otherwise difficult and seemingly unrelated concepts accessible to a wide range of listeners. Too often and too easily, however, illustrations fall short of the mark. Speakers settle for what is quick, clever, or cute. Moyer knows that the right illustration is crucial in presenting the good news. And he can show pastors and speakers how to add impact to their evangelistic preaching with proven and time-tested principles. All pastors and speakers who want to challenge listeners with the gospel message can profit from this insightful resource.
About the Author
Veteran evangelist Dr. Larry Moyer is a frequent speaker in evangelistic outreaches, training seminars, churches, and classrooms across the world. Born with an inherited speech defect, Larry vowed to God as a teenager that if He would allow him to gain control of his speech he would always use his voice to declare the gospel. Miraculously, he experienced a control he never had. That prayer along with a year of speech therapy brought him to a point where he hasn't stopped sharing the good news of Jesus Christ.
Endorsements
"Not only does Larry Moyer provide a method for securing illustrations for sermons, but he also presents an incredible mine of illustrations from which preachers can draw. Well done!"
"A great illustration often is sourced by preachers who struggle to move into and then out of an illustration. Larry's book provides great illustrations and the transitions to go with them. This book is a gold mine for preachers."