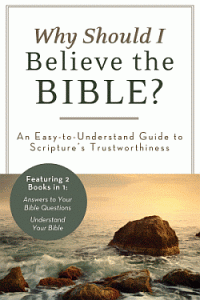 Why Should I Believe the Bible?
An Easy-to-Understand Guide to Scripture's Trustworthiness
This title works with the following Wordsearch products
Desktop
Product Details
Can you really trust the Bible? And if so, and you really understand it? The answer to both questions is yes—as this book makes plain. Here, under one cover, are two powerful titles that make God's Word accessible to any reader: Answers to Your Bible Questions, providing clear, concise, encouraging responses to 75 questions skeptics raise about scripture; and Understand Your Bible, which explains just how to read God's Word—from the perspective of its historic, geographic, literary, and other contexts. This powerful book will start you on a journey of understanding that can truly change your life!
About the Authors
Ed Strauss is a freelance writer living in British Columbia, Canada. He has authored 18 books for children, tweens, and adults and coauthored an additional 16. Ed has a passion for Biblical apologetics and besides writing for Barbour, has been published by Zondervan, Tyndale, Moody, and Focus on the Family.
John A. Beck is a 2010 ECPA Christian Book Award finalist.