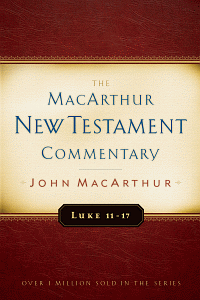 MacArthur New Testament Commentary - Luke 11-17
Highlights
Over 1,000,000 copies of The MacArthur New Testament Commentaries sold to date
Considered the premier New Testament Commentary series, used worldwide by pastors, teachers, and students of the Bible
Not linguistically or theologically technical, but explanatory
From Grace to You's John MacArthur
Product Details
Luke 11-17 continues The MacArthur New Testament Commentary's look at the longest of the four gospels. The commentary provides a verse by verse and phrase by phrase exposition of the text, taking into account the cultural, theological, and Old Testament contexts of each passage. Interpretive challenges are fully dealt with, and differing views are fairly evaluated. The gospel of Luke is unique and provides valuable insight into Christ's life and ministry. For example, it gives the fullest account of Christ's birth and is the only gospel to record several of our Lord's parables, including the Good Samaritan and the Two Sons. Use this volume of The MacArthur New Testament Commentary series to assist you in your study of this cherished New Testament book.
The New Testament Commentary Series from noted Bible scholar John F. MacArthur Jr. takes readers on a journey through biblical texts to discover what lies beneath the surface, focusing on meaning and context, and then reflecting on the explored passage or concept.
MacArthur outlines the purpose of this commentary series: "Some commentaries are primarily linguistic, others are mostly theological, and some are mainly homiletical. This one is basically explanatory, or expository. It is not linguistically technical, but deals with linguistics when that seems helpful to proper interpretation. It is not theologically expansive, but focuses on the major doctrines in each test and on how they relate to the whole of Scripture. It is not primarily homiletical, although each unit of thought is generally treated as one chapter, with a clear outline and logical flow of thought. Most truths are illustrated and applied with other Scripture. After establishing the context of a passage, I have tried to follow closely the writer's development and reasoning.
"My prayer is that each reader will fully understand what the Holy Spirit is saying through this part of His Word, so that His revelation may lodge in the minds of believers and bring greater obedience and faithfulness — to the glory of our great God." — John MacArthur, Jr.
About the Author
John MacArthur, Jr. pastors Grace Community Church in Sun Valley, California, and serves as President of the Master's College and Seminary. A well-known Bible expositor and conference speaker, he has written numerous books. He is also the Bible teacher on "Grace to You", an international radio broadcast. He and his wife Patricia live in Southern California and have 4 grown children and eleven grandchildren.
Endorsements
Clear, reasonable, understandable, devout—all these things and more can be honestly said about this generation's greatest single-author pastoral commentary set. The MacArthur New Testament Commentary series is a help to Christians and preachers. Forged in the study, fired in the pulpit, these comments on the whole New Testament are a gift from one who loves Christ, given to Christ's bride, the church.
Dr. MacArthur's love for the Scripture and his many years of diligent study have resulted in a resource that is a great gift to the Body of Christ. I have found this tool to be a great help as I study the Word and teach it to women. I often refer to this set of commentaries to enhance my understanding of the text and to shed light on difficult passages and questions.
John MacArthur has provided a compelling example of pastoral ministry based on the Word of God. Now the fruit of that ministry is available to us all; careful attention to the text of Scripture and faithful theological exposition, all in the service of the church of Jesus Christ. Both pastor and layperson will benefit for years to come from this unique commentary series.