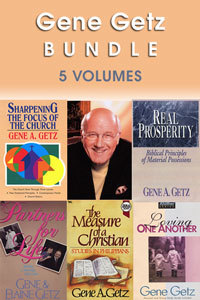 Gene Getz Bundle
5 Volumes
Product Details
The Gene Getz Bundle includes five recently released books by Getz for your Wordsearch library.
Loving One Another
"Biblically, evangelism began in the Upper Room (John 13). Conceptually, evangelism begins with Christians who love one another as Christ loved them."
Gene Getz wrote Loving One Another as part of his well-known "One Another Series" back in 1979. Now he has updated this classic for a new generation of readers. And this new edition includes a personal and group study guide.
Partners for Life
No, Partners for Life is a lot more: it's about making a marriage that last. By now, you've discovered that "till death do us part" is more than a promise for the future—it takes work now to be together later. Do you want to help, but don't know where to begin? This book can help.
Gene and Elaine Getz, a Christian couple, have been married for over 30 years. They have learned what it takes to make a marriage work. In Partners for Life, they give you the practical tools you need to better understand your spouse, and the dynamics of your marriage. Every chapter includes examples, discussion questions, and extensive worksheets you can use to actively explore your relationship.
Ask yourself the questions. Work together with your spouse. The answers you find may be the help you need. You'll learn more about yourselves and what makes your marriage special—the keys to building a partnership that lasts.
Real Prosperity
Thematically arranged, Real Prosperity offers nuts-and-bolts guidance about sacrificial giving, aiding the poor, caring financially for family members, and avoiding materialistic bondage, as well as a host of other topics. What's more, the advice is straight from Scripture, pertinent and practical. It will surely help you conform your life to the will of God in an area nearly everyone finds frustrating and difficult.
Sharpening the Focus of the Church
It's all here:
The purpose of the church
The growth of the church through proper edification
New Testament principles of administration and organization
Communication of the principle of New Testament evangelism
The effects of the church on the world
The effects of the world on the church
How culture affects the church
How the church should affect culture
How to formulate objectives, goals and standards in order to be a true New Testament church in the twentieth century.
The Measure of a Christian: Studies in Philippians
The church of Philippi, though far from perfect, was one of the most mature churches of its time. The Christians there experienced genuine unity and their relationships were deep. They maintained a dynamic witness of Jesus Christ in the world.
Today, as in the first century, Christian maturity develops through learning to be content in every circumstance. Author Gene Getz uses Paul's letter to the Philippians to show how we can experience joy as growing Christians living in an unpredictable world.
Each chapter guides the reader to discover what Paul said and how it applies today and provides projects for both individual and group application.
This book is an excellent tool for anyone seeking to grow in their relationship with God.
About the Author
Dr. Gene Getz received his diploma (1952), Moody Bible Institute; B.A. (1954), Rocky Mountain College; M.A. (1958), Wheaton College; Ph.D. (1968), New York University; and did his graduate study at Northern Illinois University. He became involved in church planting and renewal at a very practical level while teaching at Dallas Theological Seminary. After exploring the subject for several years with his students, he wrote Sharpening the Focus of the Church. Prodded on by several families in Dallas who became interested in starting a new church, Gene launched Fellowship Bible Church in November of 1972. Committed to biblical absolutes, the church was also built on the concept of "freedom in form." Growth was immediate. Since that time, 12 Fellowship churches have been started in the Dallas metroplex and numerous churches throughout the United States can trace their roots back to what has happened in Dallas.
Gene has personally pastored three of these churches. Presently, he serves as Pastor Emeritus at Fellowship Bible Church North, located in Plano, Texas, one of the fastest growing areas in the Dallas metroplex. Though Gene still teaches part time at Dallas Theological Seminary, his primary focus involves directing the Center for Church Renewal and his pastoral responsibility at Fellowship Bible Church North. The CCR is a rapidly growing organization designed to minister to pastors, missionaries and other church leaders.
Gene's ministry career has involved a variety of experiences including Christian education and music ministries, college and seminary teaching. He has also authored over 60 books and many of these book titles have been printed and distributed in over 30 different languages. Most of his books have grown out of his experience as a pastor. Some of his best selling titles are the series Measure and the One Another books. His Men of Character series are impacting the current men's movement. Recently, he has launched a 15-minute weekday program called "Renewal" which is aired on the Moody Radio Network. The format consists of brief messages, interviews, discussions.
Products Included In This Bundle