Baker Exegetical Commentary on the New Testament: John
Author: Andreas J. Köstenberger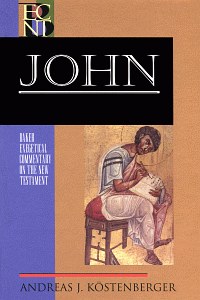 Product Details
In this major commentary on the Gospel of John, Andreas Kostenberger presents comprehensive and up-to-date analysis. His detailed study of one of the most important books in the New Testament is sure to become a standard resource for preachers, students, and scholars.
A well-respected New Testament scholar, Kostenberger begins with a thorough introduction to John and the topics relevant to its interpretation. He discusses the book's authorship, date of writing, theological emphasis, and relation to other New Testament writings.
In the commentary proper, each exegetical unit is introduced and translated by the author. A full verse-by-verse exposition is followed by additional notes of a more technical nature. Throughout the commentary, Kostenberger interacts with the best recent scholarship and presents his conclusions in an accessible manner. When dealing with particularly problematic sections, he considers the full range of suggested interpretations drawn from a broad spectrum of commentators before offering his own understanding.
As with all volumes published in the Baker Exegetical Commentary on the New Testament, John seeks to reach a broad audience with scholarly research from an evangelical perspective. Each volume in the BECNT series interacts with the best contemporary scholarship, offering up-to-date, accurate, and authoritative analysis of the Greek text through rigorous exegesis and exposition. Central themes are developed throughout, and each exegetical unit is related to the overall message of the biblical book. Pastors and seminarians especially appreciate the combination of broad overview and in-depth analysis found in BECNT volumes.
About the Series
The Baker Exegetical Commentary on the New Testament (BECNT) series provides commentaries that blend scholarly depth with readability, exegetical detail with sensitivity to the whole, and attention to critical problems with theological awareness.
About the Author
Andreas J. Köstenberger (PhD, Trinity Evangelical Divinity School) is senior research professor of New Testament and biblical theology and director of PhD studies at Southeastern Baptist Theological Seminary in Wake Forest, North Carolina. He is the author, editor, or translator of numerous books and editor of the Journal of the Evangelical Theological Society.
This book also available within the following bundle: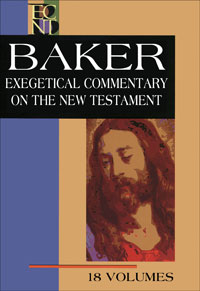 Baker Exegetical Commentary on the New Testament
: 18 Volumes
Critical Reviews
Köstenberger has quickly established himself as a competent, conservative scholar and interpreter of John who now brings his formidable skills to the task of writing a commentary. His work is an important addition to our conversations, especially on Johannine theology, and merits careful attention.
Köstenberger has already distinguished himself as one of evangelicalism's premier Johannine scholars and has authored an introductory-level textbook and commentary on the Fourth Gospel. Now he pulls all his research together in what will immediately establish itself as the best and most thorough commentary on the Greek text of John in recent years, from any theological perspective. This book is highly recommended!
Andreas Köstenberger's commentary on the Gospel of John in the Baker Exegetical Commentary on the New Testament has been long anticipated. Professor Köstenberger is well established as a student of the Fourth Gospel, and he brings the full range of his scholarly gifts to this great project. This commentary combines exegetical scholarship and theological vigor. It belongs in the library of every serious student of the Bible.
Köstenberger's historical and theological commentary on John will quickly establish itself as a voice to be reckoned with by those with ears to listen. His emphasis on mission gets to the very heart of why the Fourth Gospel was written. Köstenberger's book is critically aware but not vulgar in bibliographical detail, exegetically constrained but not blind to the narrative's movement, theologically astute but not heavy handed. It is succinct enough to be read by pastors, students, and scholars. A new generation of students will learn the Gospel of John at the feet of this Johannine scholar.
Köstenberger has provided a helpful commentary that draws on his considerable depth of scholarship, while not drowning the reader in too much detail. Writing in the tradition of Morris and Carson, he guides the reader through the Gospel of John, judiciously drawing on recent scholarship to highlight central issues and to comment lucidly and clearly. It is easy to find one's way around the commentary, both at a macro level and to find comment on a particular verse or section. This well-organized and clear commentary will be of value to many, especially to pastors and students.
Andreas Köstenberger's very fine commentary is the fruit of his living with the Gospel of John for more than a decade. His excellent volume is characterized by a sensitivity to the literary features of the Gospel, a careful grappling with the historical issues raised by it, and a commitment to John's ultimate theological concerns. The exegesis is clear, insightful, and edifying. It is highly recommended for serious students of John's Gospel.
Köstenberger's commentary on John's Gospel is an outstanding piece of evangelical scholarship. It shows great awareness of present-day scholarly debates while maintaining a steady, conservative approach. Even those disagreeing with his general perspective cannot afford to neglect this concisely written work.
This series has set a new standard in reader-friendliness with its attractive presentation that combines detailed exegetical comment on the Greek text with accessibility for those who have little or no knowledge of the original language of the New Testament.