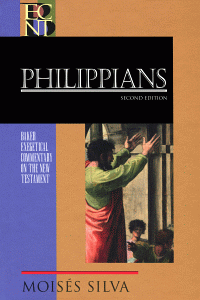 Baker Exegetical Commentary on the New Testament: Philippians
Product Details
With its user-friendly design, this commentary by Moises Silva provides a substantive yet accessible discussion of Philippians to help pastors, students, and teachers understand and explain this letter. Each passage is presented in three parts: Silva's own translation of the Greek text; exegesis and exposition of each unit of thought; and additional notes on textual matters. Throughout the commentary, Silva asks what is distinctive about this letter and shows how each passage contributes to Paul's overall argument.
The second edition has been updated to interact with important recent scholarship on Philippians and to incorporate the well-regarded BECNT layout.
About the Series
The Baker Exegetical Commentary on the New Testament (BECNT) series provides commentaries that blend scholarly depth with readability, exegetical detail with sensitivity to the whole, and attention to critical problems with theological awareness.
About the Author
Moises Silva (Ph.D., University of Manchester) has taught New Testament at Westmont College, Westminster Theological Seminary, and Gordon-Conwell Theological Seminary.
Endorsements
A well researched and helpful guide for understanding Paul's letter . . . . One of the best commentaries available on Philippians.
One cannot but be impressed with Silva's skill as an exegete. His extreme care in analysing the text, his thorough understanding of the original language, his grasp of linguistic subtleties, his mastery of secondary sources—all combine to provide the reader with an excellent commentary.
The exegetical discussion is fresh and vigorous, with good use being made of some of the ancient commentators and a judicious selection of the modern ones . . . . All who want a sound exegetical basis for their preaching and are prepared to wrestle with the Greek text will find that this is an ideal piece of work.
An attractive exegesis of the letter with the minimum of distractions, yet in dialogue with other scholars.
Silva has produced an informed and readable work on Philippians. Avoiding unnecessary exegetical rabbit trails in favor of Paul's main themes, Silva's analysis is consistently level-headed. . . . This second edition in the Baker Exegetical Commentary on the New Testament provides a new generation of Bible students access to Silva's previous work, combined with his assessment of the past 15 years of scholarship.
Silva has expanded his already thorough and clearly exegeted treatment of Philippians. The second edition, now a part of the scholarly and user-friendly Baker Exegetical Commentary series has much to be commended. Silva has here interacted with more recent works since his first edition. Furthermore, this commentary has a very clear and concise outline; its concision makes it very useful for exegetes and expositors alike. . . . Silva's commentary on Philippians is a jewel. It has the 'additional comments' section unique to the Baker Exegetical Series which deals with word studies, text-critical issues, and further exegetical insights. This section can contain lengthy commentary but even then it can be helpful. Silva gives good outlines; they are not very flowery or 'preachy,' but they are biblical. His insight into the theology of most passages in Philippians is astute, well presented, and very useful. This is the type of commentary into which more preachers need to dig.
In this age of unprecedented proliferation of biblical commentary series, it is an outstanding accomplishment for the Baker Exegetical series consistently to have produced what with only rare exceptions have become the best available commentaries on the Greek text of the New Testament book or books treated.
This series has set a new standard in reader-friendliness with its attractive presentation that combines detailed exegetical comment on the Greek text with accessibility for those who have little or no knowledge of the original language of the New Testament.