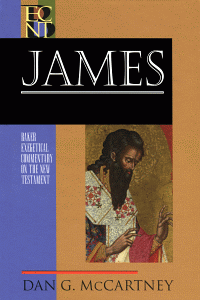 Baker Exegetical Commentary on the New Testament: James
Product Details
Dan McCartney, a highly regarded New Testament scholar and an expert on biblical interpretation, offers a substantive yet accessible commentary on James in this latest addition to the award-winning BECNT series. With extensive research and thoughtful chapter-by-chapter exegesis, McCartney leads readers through all aspects of the book of James—sociological, historical, and theological—to help them better understand its meaning and relevance.
As with all BECNT volumes, James features the author's detailed interaction with the Greek text. This commentary admirably achieves the dual aims of the series—academic sophistication with pastoral sensitivity and accessibility—making it a useful tool for professors, students, and pastors. The acclaimed user-friendly design includes shaded chapter introductions summarizing the key themes of each thought unit.
About the Series
The Baker Exegetical Commentary on the New Testament (BECNT) series provides commentaries that blend scholarly depth with readability, exegetical detail with sensitivity to the whole, and attention to critical problems with theological awareness.
About the Author
Dan G. McCartney (PhD, Westminster Theological Seminary) is professor of New Testament interpretation at Redeemer Seminary in Dallas, Texas. He previously taught at Westminster Theological Seminary in Philadelphia for more than twenty years. He is the author of Let the Reader Understand: A Guide to Interpreting and Applying the Bible and Why Does it Have to Hurt? The Meaning of Christian Suffering. McCartney also revised J. Gresham Machen's New Testament Greek for Beginners.
Endorsements
Dan McCartney has written an informed, scholarly, and evangelical commentary on James that is both readable and informative. It contains fresh perspectives in addition to covering the ground that all solid commentaries need to cover. It will be quite useful to evangelical pastors who want a solid basis for preaching or teaching on James.
Dan McCartney's commentary on James is a fresh and important contribution to the literature on James. He convincingly argues that faith plays a central role in the letter. McCartney writes lucidly and clearly while ably surveying various interpretations. This work is exegetically rewarding, theologically rooted, and pastorally wise.
McCartney shows firm control of the secondary literature while retaining an independent judgment on the original text itself. His exposition is thorough, clear, and consistently on target; and his extensive additional notes and excursuses are the icing on the cake. This work deserves a warm reception.
This series has set a new standard in reader-friendliness with its attractive presentation that combines detailed exegetical comment on the Greek text with accessibility for those who have little or no knowledge of the original language of the New Testament.