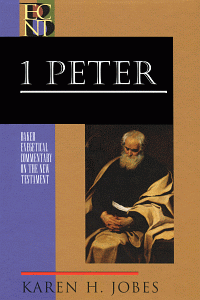 Baker Exegetical Commentary on the New Testament: 1 Peter
Product Details
In this addition to the acclaimed BECNT series, Karen H. Jobes provides a fresh, insightful commentary on 1 Peter that will help students and pastors understand and apply this important letter to the world in which we live.
Throughout the commentary, Jobes emphasizes the Christian's relationship to culture and the place of suffering in the Christian life. She also presents a new suggestion about the original recipients of the letter, highlights the insights provided by the use of the Septuagint in the letter, and challenges prevailing assumptions about the nature of the Greek in the letter.
As with all BECNT volumes, 1 Peter features the author's own translation of the Greek text and detailed interaction with the original text. This commentary admirably achieves the dual aims of the series—academic sophistication with pastoral sensitivity and accessibility.
About the Series
The Baker Exegetical Commentary on the New Testament (BECNT) series provides commentaries that blend scholarly depth with readability, exegetical detail with sensitivity to the whole, and attention to critical problems with theological awareness.
About the Author
Karen H. Jobes (Ph.D., Westminster Theological Seminary) is Gerald F. Hawthorne Professor of New Testament Greek and Exegesis at Wheaton College. She has written the NIV Application Commentary on Esther as well as a detailed study of an ancient Greek version of Esther and is the coauthor of Invitation to the Septuagint.
Endorsements
How good is the Greek of 1 Peter?' asks Jobes in an excursus to this new volume in the Baker Exegetical Commentary series. She gives evidence that it is good but not so good that Peter the fisherman could not have written it. Her attention to detail throughout and her expertise in the Greek Old Testament make this a work that deserves to be added to a fairly short list of commentaries on 1 Peter that are not to be missed.
Jobes has written a first-rate commentary on 1 Peter. Fully conversant with, and responsive to, a wide range of contemporary Petrine scholarship, Jobes contributes creative solutions to a series of long-standing critical issues that every serious student must face when locating 1 Peter at its point of origin. This makes her book useful for the scholar and the classroom. More importantly, Jobes recognizes the theological relevance of this neglected letter for contemporary believers who must navigate their faith and a distinctively Christian lifestyle through an increasingly non-Christian and even hostile world. This property makes her book useful for the pastor and the congregation.
Jobes has written a fluent and interesting commentary that enables the reader to see the forest through the trees. Throughout, she expounds the overall theological teachings of the epistle with an informed and perceptive attention to its Old Testament background, but she also provides a close and scholarly exegetical analysis of its text.
Jobes has written a fresh and highly interesting commentary on 1 Peter. Not only does she cover the usual issues that must be covered in any commentary of value, but she has added her own fresh insights that will make scholars and pastors alike take notice. Her syntactical analysis showing Semitic influence in 1 Peter's Greek is original and quite helpful, as is her argument that the addressees were Christians displaced from Rome. But this work, while far more interesting than a rehash of old arguments, is also not, at root, about scholarly novelty. It is a solid, practical commentary that any pastor could use without worrying about getting lost in a sea of Greek. Thus, it is at once a solid exposition of 1 Peter that will assist the busy practitioner who may have little interest in the details of Greek--even someone with no knowledge of Greek can use it--and also a scholarly presentation that will attract the notice of academics. Jobes is to be commended for holding these two tasks of the commentator together in such a way that neither set of readers will feel slighted by her or be put off by material addressed to the other group. This is a solid, evangelical commentary that I warmly commend.
After the magisterial commentaries by Achtemeier and Elliott, one might think it has all been said. Jobes rewards her readers, however, with new and challenging arguments concerning authorship and historical setting, as well as with the strengths that her own proven competence in Septuagint studies bring to an epistle so rich in intertextual conversations with the Jewish Scriptures. Jobes is thoroughly conversant with scholarly literature and shows a keen interest in incorporating the results of rhetorical and social-scientific explorations of the text along with the more traditional modes of interpretation. Jobes will be a necessary conversation partner for future scholarship on 1 Peter, and her commentary has become the resource of choice for the seminary classroom and pastoral study.
Jobes combines thoroughness, originality, and keen exegetical insight in writing a commentary that will benefit scholars, pastors, and students. She combines an understanding of the ancient audience with helpful suggestions on interpreting the message of 1 Peter in contemporary Western culture. Her willingness to challenge old interpretations and to offer new perspectives about the situation of the author and the original readers makes this book a valuable addition to the literature on 1 Peter.
This series has set a new standard in reader-friendliness with its attractive presentation that combines detailed exegetical comment on the Greek text with accessibility for those who have little or no knowledge of the original language of the New Testament.