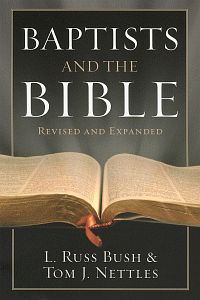 Baptists and the Bible
This title works with the following Wordsearch products
Desktop
Product Details
A revised edition for students at the divinity school level who study the origins of modern Baptists in 17th Century England, bibliology of the 18th and 19th century Baptists of England and America, and the sources for present-day uncertainties in the field of bibliology, especially as it relates to the Southern Baptist Convention as well as the Northern Baptist Convention. An excellent tool for researchers, scholars, as well as laymen.
Since its publication in 1980, Baptists and the Bible has become one of the most complete and often quoted sources for reliable, incisive, and detailed information on the history of Baptist attitudes toward the doctrine of the inerrancy and infallibility of the Bible. Now this newly expanded edition makes it even more useful in understanding what Baptists believe about the Scriptures—and why.
About the Authors
L. Russ Bush (1944-2008) was the academic dean at Southeastern Baptist Theological Seminary, where he also taught Christian Philosophy and Apologetics.
Thom J. Nettles teaches church history and historical theology at The Southern Baptist Theological Seminary.