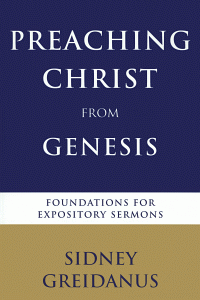 Preaching Christ from Genesis
Foundations for Expository Sermons
This title works with the following Wordsearch products
Desktop
Product Details
Preaching Christ from Genesis offers Greidanus's solid, practical homiletical fare.
Packed with unique features, Preaching Christ from Genesis
uses the latest scholarly research to analyze twenty-three Genesis narratives
presents the rhetorical structures and other literary features of each narrative
discloses the message for Israel (theme) as well as the author's likely purpose (goal)
explores various ways of preaching Christ from each narrative offers sermon exposition and commentary in oral style
suggests relevant sermon forms, introductions, and applications.
About the Author
Sidney Greidanus is professor emeritus of preaching at Calvin Theological Seminary, Grand Rapids, Michigan.
Endorsements
Sidney Greidanus has been one of the most gifted advocates of 'redemptive historical' preaching, and in this book he provides yet another important resource for bringing that perspective to bear on the life and mission of the church. In a time when there is much confusion about what it means to preach in fidelity to the Scriptures, we very much need the lessons that he offers us here.
In his earliest work more than three decades ago, Sidney Greidanus helped revolutionize evangelical homiletics by demonstrating how Genesis 3:15 discloses the theme for all preaching in the Bible's earliest pages. . . Now in a culminating work of his career, Greidanus shows not only how Genesis 3:15 sets the theme of Scripture but also how the entire book of Genesis structures God's agenda and our understanding of Christ's redeeming work. This is a master stroke from one of the seminal thinkers and writers in homiletics.
A book for every preacher's library. Not only will it help you preach many Christ-centered sermons on Genesis, but also its repetition of fundamental insights and skills will help you develop homiletical muscle memory that will hopefully transform you from workman to an artisan, from a duffer to a Tiger.