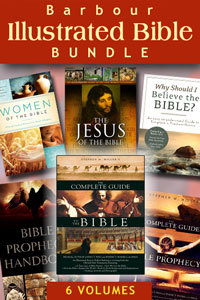 Barbour Illustrated Bible Bundle
6 Volume Set
This title works with the following Wordsearch products
Desktop
Product Details
The Barbour Bible Bundle combines 6 outstanding reference volumes that are packed with beautiful photography, illustrations, charts, maps, and timelines that will bring your studies of God's Word to life.
The Complete Guide to the Bible
Interesting to read and easy to consult, The Complete Guide to the Bible is a reliable, jargon-free handbook for everyone seeking a better understanding of the entire Bible. Engaging text, along with beautifully designed and illustrated pages will hold your interest and inspire you as you study God's Word. This excellent volume provides both the big-picture view of the whole Bible and its individual books, as well as fascinating details on specific passages and topics.
Jesus of the Bible
Stephen M. Miller, author of the bestselling Who's Who and Where's Where in the Bible, details the life of Christ, His teachings, and the faith He introduced to the world—written in a casual, easy-to-read journalistic style. Miller sets the story in the Roman world where Jesus lived, adding new insights from archaeology and ancient history. Gorgeous full-color illustrations, fascinating sidebars, and a complete topical index add value to this interesting volume.
The Complete Guide to Bible Prophecy
This is a straightforward and thoughtful review of various end-time theories by noted author Stephen M. Miller. This helpful guide will introduce you to all aspects of prophecy—from Old Testament predictions made and already fulfilled to end-times prophecies of events yet to come. Lavishly illustrated, with gorgeous charts and graphics, The Complete Guide to Bible Prophecy will help you sort out the truth on the vital topic of prophecy.
Bible Prophecy Handbook
This careful study of the Bible's prophetic passages provides intriguing insights into each one. Throughout its pages, the Bible offers glimpses of what is yet to come—the mysterious and fascinating end of the world as we know it. Reviewing relevant passages from the Old Testament prophets, the Bible Prophecy Handbook illustrates the future with an amazing tapestry of images. You'll be astounded by what you learn.
Women of the Bible
They didn't get as much ink—but women of the Bible made significant contributions to the history of God's people. Learn all about them in this intriguing, illustrated reference volume. It covers women's roles, jobs, and daily experiences.. You'll find new clarity regarding some of the strange, confusing, and forgotten stories of Scripture. This colorfully illustrated volume features lists of every named woman of Scripture and most of the unnamed females.
Why Should I Believe the Bible?
This helpful volume will give you complete confidence in the absolute truth and accuracy contained in God's Word. This resource combines 2 powerful works that make God''s Word accessible to any reader. Answers to Your Bible Questions provides clear, concise, and encouraging responses to 75 questions skeptics raise about Scripture. Understand Your Bible explains just how to read God''s Word— from the perspective of its historic, geographic, literary, and other contexts.
Check out a sample by clicking on the yellow sample box underneath the book cover image. Learn more about each volume by clicking on their book cover images below.
Products Included In This Bundle