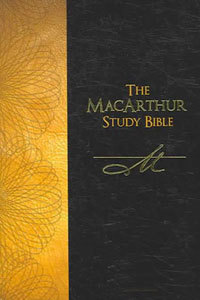 MacArthur Study Bible
This title works with the following Wordsearch products
Desktop
Highlights
Over 1,000,000 copies in print
20,000 Study Notes
Outline of Systematic Theology
Word-Phrase Concordance
Index to Key Bible Doctrines
Messianic Prophecies in the Old Testament
Timeline of OT Kings & Prophets and NT Chronology
Over 50 Bible Maps
Named as the Master's Seminary's 850 Best Books for Biblical Expositors
Product Details
Dr. John MacArthur has spent decades producing superb study helps for pastors, teachers, and students who love God's Word. The MacArthur Study Bible is a single volume that contains 35 years worth of MacArthur's study notes covering every verse of the Bible. Reading this study Bible is like having MacArthur sit and guide you through your study. He explains the historical context, the meaning of the text, and makes it practical for your life.
The MacArthur Study Bible includes all the maps, charts, and extra reference tools you'd expect from a premium study Bible. MacArthur often helps us connect the Old Testament with the New Testament. Sometimes he does this with the use of "Types." For example, at the end of Genesis he provides a chart titled: Joseph—A Type of Christ, where he outlines 18 different ways we can look forward to Jesus as we study the life of Joseph. You'll find many other helpful tools like this, such as:
A Concise Topical Index
More than 20,000 Study notes
Introductions to the Bible
Thorough Book Introductions and Outlines
Outline of Systematic Theology
Index to Key Bible Doctrines
Messianic Prophecies in the Old Testament
Timeline of Old Testament Kings and Prophets
Timeline of New Testament Chronology
How We Got the Bible
How to Study the Bible
Harmony of the Gospels
Over 50 Bible Maps
Bible reading plans
Table of Weights & Measures
And More!
MacArthur embraces that the Bible is often its own best commentary, and his study notes are packed with cross-references to related Scriptures.This is a powerful advantage in Wordsearch, because all you need to do is mouse-over each reference and the Bible text pops up for quick reading.
For those who purchase a paper edition of The MacArthur Study Bible, they must choose one of several translations available. In Wordsearch you can easily sync this work with any Bible translation, or several translations at the same time.
It's an impressive accomplishment that John MacArthur has shared his thoughtful consideration and study of each and every passage of the entire Bible, with the intention of providing deeper understanding of each verse.
Check out a sample of this study Bible by clicking on the yellow "Sample" button under the book cover on this page.
About the Author
Dr. John MacArthur, Jr. pastors Grace Community Church in Sun Valley, California, and serves as President of the Master's College and Seminary. A well-known Bible expositor and conference speaker, he has written numerous books. He is also the Bible teacher on "Grace to You", an international radio broadcast.